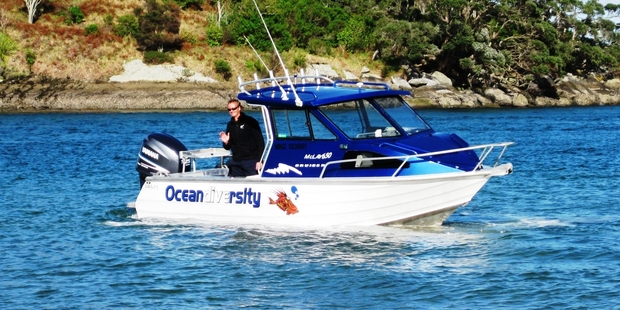 A new daily water taxi service has started up to take passengers between Whangarei Heads and Marsden Pt, providing for commuters, locals and visitors.
Whangarei Heads couple Blair and Kim Jones have been offering their Oceandiversity Sea Adventures (OSA) tours for three years after deciding to take a chance and follow their passion.
After continually getting requests, and seeing a gap in the market, they have decided to diversify and use their charter boat as a water taxi/ferry to run between the Heads and Marsden Pt.
Mrs Jones said they had 20 years' experience operating boats and as Scuba and snorkel guides for people of all ages and abilities.
She said they frequently dived and snorkelled in the areas they operated in and developed OSA to help people of all ages and abilities to experience the wonders of the underwater world while being responsible visitors and guardians of the marine environment.
"Diversity is our point of difference - we can tailor our trips to suit your needs.
"We specialise in offering unique tailored experiences for snorkellers, Scuba divers, sightseers and spearfishers," Mrs Jones said.
Destinations included the Hen and Chicken Islands, Whangarei's eastern coastline, the Mokohinau Islands, the Poor Knights Islands Marine Reserve and the Whangarei Harbour.
The Joneses have just started the water taxi service in the Whangarei Harbour.
"We are very excited about the potential this service has to open up the gateway for more visitors to our special part of the world and are keen to work together with other tourism and transport providers to promote Whangarei Heads as a destination whilst also showing people what's so special about it and how to look after it while they're here," she said.
The service - which uses a 2002 McLay 650 Cruiser hardtop with a 167kW Yamaha four-stroke outboard - operates on request.
Trips for the water taxi service depart from Marsden Cove Marina; Reotahi Bay and sometimes from McLeod's Bay Wharf and the public jetty by North Tugz. To get in touch with OSA go to www.oceandiversity.co.nz email Oceandiversity@gmail.com or phone 09 4340779 or 021 114 7466.