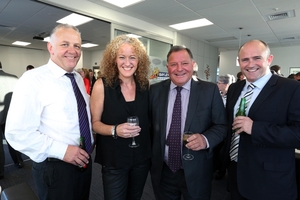 A pioneer of supermarket retailing in Whangarei and the grandchildren of the founder of the Bayleys Real Estate company had roles in Bayleys moving into new premises in the city.
About 20 Bayleys' staff shifted from their former office in Rathbone St to their new site fronting Walton St alongside the Whangarei police headquarters recently. The Walton St office, extensively altered for Bayleys, was formerly leased by Instant Finance, now in Vine St.
The 948sq m site on which the Bayleys' office and its carpark stands has a land value of $570,000 and capital value of $760,000 listed on the Whangarei District Council rating website.
The property's title shows ownership first registered to Lion Nathan Ltd in 1992, when a liquor store operated on the site alongside the former Settlers Hotel, demolished to make way for the police station.
In 1993 the title was transferred to Helen Fay, Margaret Crawford and Gwenda Smith.
Helen's husband, Albert Fay, told the Advocate that more than 40 years ago he acquired interests in the Foodliner supermarket then on the corner of Kamo Rd and Kensington Ave. It was later renamed Supervalue, sold to Woolworths in 1988 and became the Countdown supermarket there today.
Foodliner/Supervalue set up a second smaller supermarket on Maunu Rd opposite the Porowini Ave junction which Mr Fay said he sold, bought back five years later, before quitting for good. About 1986 he had a fall which put him in a wheelchair, but it didn't stop his participation in city business.
In 2001 he and accountant Gregory Hamilton and the spouses of Margaret Crawford and Gwenda Smith acquired shares in the Walton St property together with the three women and it operated as the retro restaurant Al's Diner for about six years before closure and leasing of the building to Instant Finance.
Mr Fay and his wife are now retired and live in Auckland.
In The North Investments Ltd bought the property in March from the Fays, Peter Crawford and SH & P Trustees Ltd, a firm directed by Whangarei accountants representing family trusts involved in the transaction.
In The North Investments is directed by major shareholders Mark Macky, of Orewa, and Kirsten Stevenson, of Red Beach - grandchildren of the late Graham Bayley, who founded the real estate company bearing his name at Auckland in 1973.
Mr Macky and Ms Stevenson own all the Bayleys' franchise operations north of Orewa.
Their new office in Whangarei was officially opened on Thursday September 26.