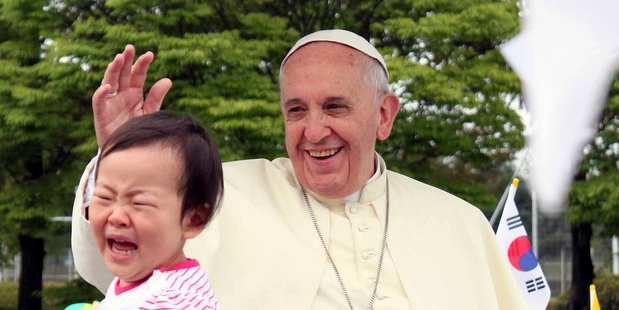 North Korea yesterday ridiculed suggestions that it had sought to upstage the visit of the "so-called Pope" to South Korea by firing a series of short-range rockets as the pontiff flew into Seoul.
A senior rocket scientist, Kim In Yong, was quoted by the North's official KCNA news agency, accusing Seoul of seeking to tarnish Pyongyang's image.
South Korea "is making crazy accusations to link our strategic rocket test with the visit to South Korea by the so-called Pope", Kim said.
The North fired five short-range rockets as Pope Francis arrived in Seoul on the first papal visit to Asia in 15 years.
A South Korean Foreign Ministry spokesman said the timing of the launches was "quite unseemly", while local media said it was clearly aimed at upstaging the visit.
Pyongyang, however, insisted that the tests were to mark the August 15 anniversary of Korea's independence from the Japanese occupation in 1945.
Kim suggested any accusation of upstaging should be levelled at the Pope.
"We are just curious why the Pope, among all other days of this year, chose the day of our long-planned rocket launch to visit the South," he said.
The North had made no advance announcement of its rocket tests.
"We have no idea why he visits the South and have absolutely no interest in whatever plots he plans to discuss with the South," Kim added.
Earlier, KCNA said North Korean leader Kim Jong Un had supervised the testing of an "ultra-precision high-performance tactical rocket".
Pyongyang had trumpeted the test of a missile with a similar description in June, calling it a "cutting-edge" weapon that marked a breakthrough in national defence capability.
Meanwhile, Pope Francis sent a greeting to Chinese President Xi Jinping as he flew to South Korea in a rare cordial exchange between the sides. Vatican protocol calls for Francis to send telegrams to heads of state whenever he flies through their airspace. Thursday's telegram was unique because the last time a pope wanted to fly over China, in 1989, Beijing refused.
- AFP, AP