Address:
Ponsonby Central, cnr Ponsonby Rd and Brown St, Ponsonby
Herald Rating: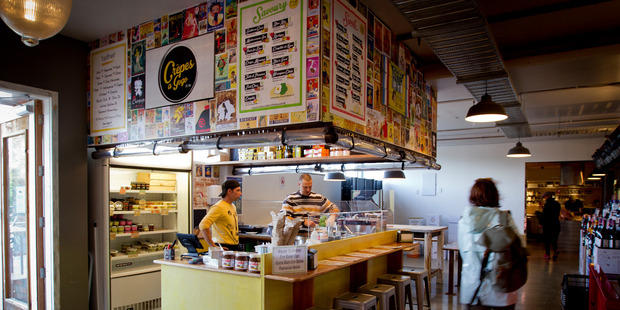 The menu is a fun, thrifty assortment of sweet and savoury crepes - accompanied by cute illustrations to help you pick, plus a daily special. You're free to mix and match your own combo depending on availablility and there's even a gluten-free buckwheat option.
The look was very alluring - the masses were gathering to check out the latest addition to Ponsonby Central early on this Saturday morning. Friendly French husband and wife Marco and Emanuelle Angelino have been serving their crepes to Wellington fans since 2006 and, keen to move north, found the perfect location. There's one high table at the rear of the building to share or if you're lucky you can nab a stool at the counter, as we did.
The food was being fried and flipped in front of our eyes as we perched at the counter admiring Marco's craft. I blissfully enjoyed every mouthful of my very light Paris Forever (ham and cheese, $8). My friend picked the Big is Good (grilled bacon, egg, free range egg and tomato, $12) which, piled with just the right amount of produce, hit the spot.
We filled that last little gap in our belly with an indulgent sweet classic - banana and Nutella ($7) - wrapped up in a cone for us to take away.
The coffee was located opposite, at Eight Thirty Coffee. These brainy baristas know their stuff - we yarned about the blend and importance of the beans being used in my perfect take-away flat white.
The service was chatty, despite the fact we could feel things heating up - Marco seemed stressed, working solo until just as we were leaving. Sure, we had to wait a while, but watching the prep was part of the fun.
Overall we could spend a whole morning at Ponsonby Central - with a visit to Crepes a Gogo essential. I'm hungry just writing about it.