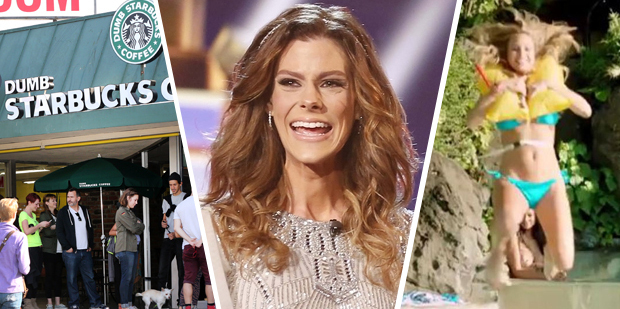 You know how sometimes it feels like you can't keep up with life?
Monday to Friday there's a to-do list as long as forever, you're well behind in personal admin, meal planning is remembering what scraps there are left to throw in a stir-fry, you're promising wine time with everyone you know and the alarm is set for sunrise just to squeeze in some fitness.
Goodness knows where the heck you'll find a window for catching up on your favourite websites and Life & Style news. Well that's what the weekend is for. And that's why I'm going to gather up the most read stories of the week and pull them together in to a lovely highlights package for you to click your way around.
So take a breath, pour yourself a cuppa (or a vino, depending on the time of day), and learn the best of Life & Style on the NZ Herald this week. Click on the hyperlinked headline to read more.
1. 'If this offends you you've missed the point'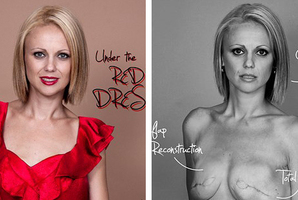 A young woman who posted graphic images on her Facebook wall, detailing the ravaging effects of cancer surgery on her body, has said that those who complained about the photographs "missed the point". Beth Whaanga, 32, from Brisbane, Australia, posted the series of candid pictures on Sunday as part of a cancer awareness project. But she said she has been de-friended by more than 100 people since publicising the images on the social networking website. The mother-of-four had to have a double mastectomy, breast reconstruction and a hysterectomy after cellular changes were detected in her left breast, and she was found to carry the BRCA2 gene. In a bid to highlight the importance of regular self-checks, Ms Whaanga worked with photographer Nadia Masot to produce the photographs for their joint project "Under the Red Dress".
2. Has the biggest loser taken weight loss too far?
A day after Rachel Frederickson won the latest US season of The Biggest Loser, after shedding nearly 60 per cent of her body weight, attention wasn't focused on her US$250,000 win - but rather the criticism surrounding her loss. Experts cautioned that regardless of her current weight, the criticism being levied on social media about her losing too much isn't helpful. A more constructive message is needed, they say, centring on overall healthy living and body image. The 162cm tall, 24-year-old Frederickson dropped from 118 kg under the show's rigorous exercise and diet regimen, and time spent on her own before the finale.
3. True love bra only unlocks when Mr Right comes along
This cheesy little story care of the Daily Telegraph was published online earlier in February, but it has managed to slide back on to readers' radars. The bra, designed in Japan, has an electronic clasp that automatically unhooks only when it detects that its wearer is in "true love". A sensor detects a rise in her heart beat, sends it to an app via Bluetooth for analysis, and then "calculates the True Love Rate based on changes in the heart rate over time". According to the creators, when the TLR exceeds a certain value, the bra is unhooked automatically. If your heartbeat doesn't rise, it doesn't unlock. The bra is designed by lingerie company Ravijour to "save women" by working as a kind of chastity belt.
4. Dumb Starbucks opens causing a stir
A new 'Starbucks' coffee shop has caused a stir in Los Angeles - the pop-up outlet, serving free coffee, is 'dumb'. The Dumb Starbucks Coffee, which parodies the design and vibe of the giant chain, popped up without notice. The coffee, brewed by two baristas hired off Craigslist, and the pastries, apparently bought off-site, are all free. There's no word on who's behind the parody pop-up, but lines are long and social media is gathering momentum. According to their Frequently Asked Questions published on Forbes, the store has managed to get away with the stunt based on parody law. "Although we are a fully functioning coffee shop, for legal reasons Dumb Starbucks needs to be categorized as a work of parody art. So, in the eyes of the law, our 'coffee shop' is actually an art gallery and the 'coffee' you're buying is actually the art. But that's for our lawyers to worry about. All you need to do is enjoy our delicious coffee!" they wrote.
Enjoy our full menu of coffees and cold drinks pic.twitter.com/wPacrEEH9k

— Dumb Starbucks (@dumbstarbucks) February 8, 2014
The blog that everyone's talking about
Shelley Bridgeman: Has Air NZ taken safety videos too far?
"Until Air New Zealand reinvented them, in-flight safety videos used to be utterly boring to watch," Shelley writes. "Turning a duty, a chore, an aviation requirement into something we wanted to see was sheer genius ..."
But the latest 'Safety in Paradise' video has been described by one related party as "tasteful" while another labelled it "raucous".
"We will have to wait and see which description is true. In the meantime, feminists are protesting that it's inappropriate for our national carrier to be objectifying women in this manner," Shelley says.
"The purpose of this latest controversial production is to lift the airline's global profile and to promote the Pacific as an exotic destination. Despite its core function as a safety video, it's not been designed to necessarily please the people who are already strapped into their seats. The executive decision has been made that it's worth disappointing some passengers in order to work with a magazine that reaches 70-million people. The airline is clearly prepared to endure a few pursed lips and criticism from feminists in return for a heightened level of international exposure."
Check out the making of the controversial clip:
Music to your ears:
To celebrate the cringe factor of Valentine's Day we put together a playlist of the 10 most cheesy love songs. Have a listen here.
If you have any feedback about Life & Style online or a question for one of our expert bloggers email me here .
Follow Life & Style Online on Twitter here. Follow Life & Style Editor Nicky Park on Twitter and Instagram.
- Nicky Park, Life & Style Editor