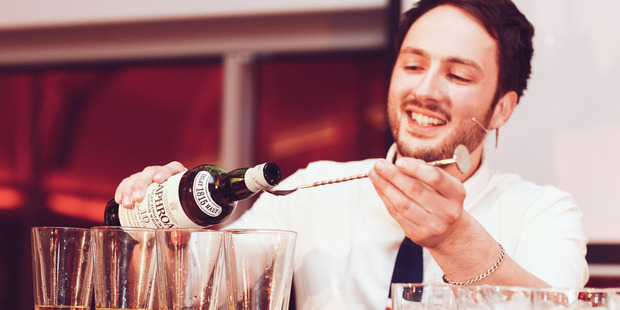 A bartender from one of Auckland's hippest watering holes has been named the best mixologist in New Zealand.
Adam Neal, from behind the bar at Britomart's Racket and Orleans, beat out nearly 500 other tenders over the challenging, three-month long, Beam Bar Legend competition.
"It's a surreal moment when you've been crowned the best bartender in the country's biggest bartender competition. I am overwhelmed but bloody stoked," Neal said after he was crowned the winner at The Cloud last night.
Bartenders all over the country threw their name in to the ring, and the cast was whittled down to 24 of the best though a series of online tests. Contestants were quizzed about about the Beam portfolio (think liquor like Campari, Midori, Candian Club and, of course, Jim Beam) and underwent personality tests.
Teams of eight gathered in Auckland, Wellington and Christchurch for the Pig'n'Punch competition, where each bartender had to craft a cocktail to perfectly match the spit roast.
The best six then headed to Auckland for the final two days of challenges including a formal interview, a blind tasting, an aperitivo challenge and two cocktail invention tests.
"For the past two days, I've been going up against five outstanding bartenders. It's been said before but I'll say it again, everyone was legendary," said Neal, who took home prizes worth $25,000.
A team of bartending experts from around the world were called to judge the event, now in its second year.
Check out all the pics from the event in the gallery below: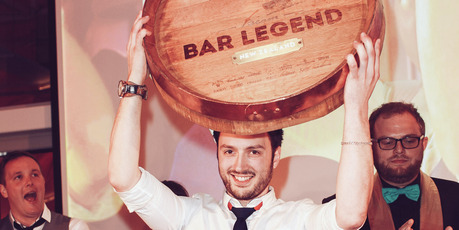 Check out some of the head-scratching questions the contenders were asked, along with Adam Neal's clever answers:
What is the correct name for a barrel that contains 300 Litres? Hogshead
What is the country of origin of STOLEN rum's unaged pot still overproof rum known as SX9? Jamaica
All single malt Scotch whisky must be made from 100% malted barley. Barley is unique in that it is a type of dia-static grain, what does this mean? It is the technical term for a grain that contains enzymes that are able to break down starches into sugar.
What are the four laws that govern Bourbon production that you must achieve in production in order to be called Bourbon? It must be made in America, it must be made with at least 51% corn, it must be aged in new charred oak barrels and it must be distilled at no more than 80% abv.
Name 5 classic cocktails that use Cognac or French Brandy. Sazerac, Champagne Cocktail, Sidecar, Vieux Carre, Brandy Alexander
What is unusual about the blending of Canadian Club that makes it different from other whiskys? It is blended before aging.
If you could introduce any product to New Zealand currently not available what would it be and why? Buckfast - Scotland is the only country that I know that young people enjoy fortified wine... lets get buckfast back on the menu!!!
Your best friend is delivering your eulogy at your funeral. In 100 words or less what would they say about you? Adam always loved being centre of attention, so I'm sure wherever he is now he's loving all of us gathered here just for him. He
was never a fan of taking things too seriously; his chat mainly consisted of childish humor and cheesy jokes. He was one of the lucky ones who actually loved what he did; a job that supplied an endless stream of people to talk to was certainly well suited to
Adam. He loved his friends, family and life. Can we all raise a glass to Adam - Cheers bro, no more beerzies for you!
Follow Life & Style Online on Twitter here. Follow Life & Style Editor Nicky Park on Twitter and Instagram.
- www.nzherald.co.nz