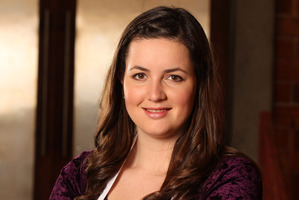 She was coasting among the top of the MasterChef pack, but young gun Ella Krauts was surprisingly booted from the final five.
Just one small mistake sent the 20-year-old student packing, in a decision that she said "grinds my gears".
The final five were faced with a 90-minute challenge from guest judge Andrew Brown, the executive chef from the George Hotel who flew from Christchurch to sub for absent foodie, Ray McVinnie.
Contestants had to prepare a Not So Lemon Meringue Pie - a six part contemporary twist on the classic dessert. A mystery box revealed a second element - concocting a champagne cocktail to match the sweet treat.
There was more swearing that usual in the MasterChef kitchen, maybe this was a sign of the point end of proceedings approaching, but the judges seemed to find some good in all the offerings.
Culinary rockstar Aaron managed to turn a pantry mishap into a creative opportunity, outshining all the other contestants with his candied raspberries.
In the end it came down to a dodgy presentation by Vanessa, who seemed to be consistently at the bottom of the barrel - and Ella - who made the mistake of missing vanilla sugar in one element.
The two had to earn their spot in a 30-minute fruit crumble cook-off. Ella looked determined, confidently finishing her apple crumble with minutes remaining.
Meanwhile, Vanessa battled through the tears. She was stressed and couldn't talk to judge Josh Emett, who warned her the emotion would taint her food.
Judges Emett and Simon Gault were silent during sampling. They said they were two of the best crumbles they'd ever had. Their decision came down to one tiny fault.
Ella, who had been in the top more than any other contestant during season four, was eliminated because her crumble was a little bit drier.
Everyone looked stunned. The judges looked apologetic.
"It really, really grinds my gears that I've gone home ahead of her because I've done much better than her in the competition," Ella said.

"But on the day her crumble was better than mine.
"I know I definitely could have gone all the way, just one little thing and I'm going home.
"I wanted to burst in to tears, but I tried to keep it together."
Emett told Ella he wanted to recruit her in his kitchen: "You're a chef all over."
Right now she's finishing off her commerce degree in the South Island while working part-time in Andrew Brown's kitchen.
It took her a while to get over the disappointment of coming so close to taking out the MasterChef title.
"I didn't even think I had a particularly bad day, I just made a mistake," she said.
The judges later said she would have been safe if it wasn't for the absent vanilla sugar.
"It's frustrating, it took me a while to get back to real life and get over the disappointment."
"(But) I did bloody well for my age."
* MasterChef New Zealand screens on TV One on Sunday nights. www.nzherald.co.nz will interview every contestant as they are eliminated.
Follow Life & Style Editor Nicky Park on Twitter and Instagram.