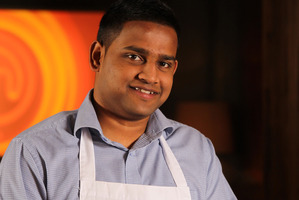 He might have been known for being the sultan of sweat and his kitchen chaos on MasterChef New Zealand but Sushil Ravikumar insisted he's actually a bit of a clean freak.
The most polite MasterChef contestant ever presented a dated dish out of the 80s and was asked to leave from the Marlborough vineyard challenge in a flood of tears last night.
Each contestant randomly selected a variety of the region's wine and had to create a gourmet meal that perfectly matched the drop.
Not only that, the challenge was to cook it up on a barbecue, al fresco.
Sushil, strapped up with the sweatband given to him earlier by Simon Gault, had the judges worried early on with his herb crusted venison.
Served alongside braised red cabbage in red wine and honey glazed vegetables, tough judge Josh Emett made Sushil plead for his MasterChef dream.
During the fourth season of the reality TV cooking contest, Emett had come across as a harsh critic.
One of his most memorable mean moments was telling Sushil back in Fiji that he was never to cook another curry on the show again.
Sushil said Emett was a tough guy because he had trained under the ultimate kitchen critic, Gordon Ramsay.
"I know that people have been talking about that (curry incident) and Josh being harsh to me, but I would disagree," Sushil said.
"I would say Josh pushed me because he saw my potential."
In an emotional twist during that tense episode, Sushil was offered a job in the kitchen at Huka Lodge in Taupo.
The family man spent a few days there over summer but his "love affair with Wellington" drew him back to the capital city.
He's returned to his IT job Monday to Friday, but on the weekends, Sushil is perfecting his craft in the kitchen of Gault's Wellington establishment, Pravda.
"You have been one of, if not the most, polite, humble, conscientious and respectful contestants in the history of MasterChef New Zealand," Gault said, showing a soft spot for Sushil as he left the competition.
Sushil said he's finding his own style, perfecting his presentation skills and fine-tuning his fusion food.
"In the future I'll be looking at moving to the food industry fulltime."
* MasterChef New Zealand screens on TV One on Sunday nights. www.nzherald.co.nz will interview every contestant as they are eliminated.
Follow Life & Style Editor Nicky Park on Twitter and Instagram.