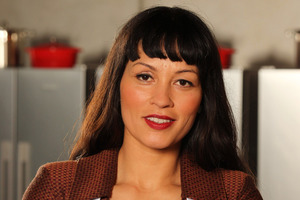 Corinna Jewanski wasn't prepared for how intense and serious the MasterChef New Zealand competition would be.
The 37-year-old, originally from Germany, was booted from the reality TV cooking show in an elimination challenge that called on her to create the perfect whitebait fritter.
Before landing in the head-to-head cook-off the contestants split in to two teams for what was dubbed the "biggest cooking challenge in MasterChef." Luxury cruise ship Dawn Princess had just landed to port in Auckland. The amateur cooks had to prep a dish for the 1800 passengers on board.
The only pairing of the day was Corinna with young gun Ella. Together they had to make-up the trickiest plate on the menu - pineapple pork with vegetables, rice and sweet chilli sauce. However, they were to present the dish separately. The cracks in Corinna's game plan appeared when she battled to pull together a sample for the cruise head chef, and guest judge, Alfredo Marzi.
Staunch Chef Marzi described Corinna's thrown together plate as "crew mess" which judge Josh Emett explained to her is "slopped on a plate."
When it came to serving their final dish for judging by Chef Marzi and Ray McVinnie, Corinna couldn't get it together in time.
"What's the confusion Corrina?" Emett asked.
"Chop, chop, chop."
Both teams were praised for doing a good job, so a weakest link had to be picked from each side to keep their MasterChef dream alive. Corinna's poor time management let her down, while McVinnie singled out Vanessa for sloppy presentation of pot stickers with dipping sauce.
As soon as the women were told they were to create the perfect whitebait fritter, Corinna knew she was in trouble. Vanessa, on the other hand, had done her homework. She had memorised McVinnie's whitebait fritter recipe from the MasterChef website once she knew she'd made the Top 16.
Corinna looked lost. The other contestants watched as she whipped up a meringue with whitebait, burnt the outside, left it raw in the middle and presented it as a mess on the plate.
"Clearly one of you knows how to make a whitebait fritter and one of you does not," Simon Gault said.
"Corinna, that is not a whitebait fritter."
And she was sent packing back to Paekakariki.
The mother-of-two said she wasn't suited to the emotional cooking contest.
"I didn't go in to it at the right stage of my life," she said.
"When I got there I was quite tired... I don't think I was in the right state of mind.
"I thought it was more something that might learn together and learn together.
"Cooking is very much a sensual experience so... cooking under pressure I don't think for anybody it would be an enjoyable experience."
By the time it came down to her departure last night, Corinna admitted she wasn't happy on the show.
"I didn't really have the will to carry on at that stage," she said.
"I was ready to go home. Coming in to an environment like that and not being at the top of your game and being exhausted and not feeling inspired. That wasn't an environment where I flourished.
"It was a little bit too full on for me."
* MasterChef New Zealand screens on TV One on Sunday nights. www.nzherald.co.nz will interview every contestant as they are eliminated.
- www.nzherald.co.nz