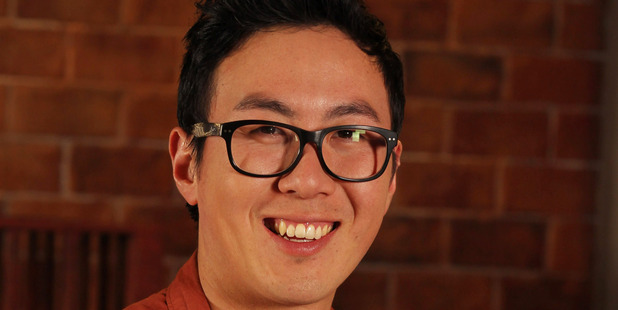 Michael Gin doesn't mind being remembered as MasterChef New Zealand's "stressed-out, Asian, ice-cream making guy".
The 23-year-old food science student was booted from one of the most emotional challenges on the reality cooking show - dishing up what would be their ultimate last supper.
"We want meals that tell us about you, what you care about and who you are," judge Josh Emett told the contestants.
"No recipes, no rules, cooked from your heart," fellow judge Ray McVinnie added.
The judges admitted it was the hardest elimination in MasterChef history.
Emett said: "I've done three years of MasterChef and this was the best day's food I've ever eaten."
Sweet tooth Michael, who had curiously made ice-cream in the two previous challenges, prepared a traditional Chinese dish of Glutinous Rice Balls.
However, he promised three ways, and only served up two for consideration.
"You're the only person who didn't deliver what you'd promised," judge Simon Gault
said.
"On another day you'd still be here, but those guys cooked so well and so brilliantly today that you were just slightly outshone," sending the South Islander packing.
Michael said he was "gutted" but proud to go down cooking something that was pretty special to him.
"I was proud in the fact that I got to do a dish which really showed more a symbolic part of my food repertoire and showed off what I can do," he said.
"They're typically something which we'd eat for Chinese New Year. The actual dish itself meant the universal family so it was pretty symbolic.
"It's not because I sucked (that I was eliminated), it's because everyone picked up their game and I didn't really do it," he said.
Michael left behind a new best friend, Dana, who he is back in touch with now that the fourth season has wrapped up filming.
"Dana and me got on like a house on fire. She is one of the most wonderful, special, crazy people I've ever met, someone which is definitely in my life right now."
But when probed about any romance between the young contestants, Michael laughs, confirming the friendship is just that.
"Me and Dana are just friends."
He says bonds form very quickly in the MasterChef house. They have to.
"You pretty much have to get along, if you don't get along you'll be that awkward guy in the corner (who) doesn't have any friends. You don't want to be that guy."
Contact with the outside world is limited to one phone call to a close family member each day "like you're in jail," so the people in the house "they pretty much become your family."
"We all understand the pressures, we understand what it's like to be on the show, only we sort of have that bond and it's really special."
* MasterChef New Zealand screens on TV One on Sunday nights.
www.nzherald.co.nz will interview every contestant as they are eliminated.