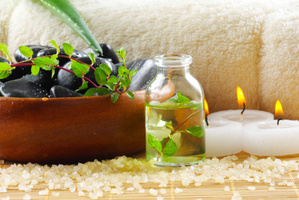 My love of lavender was brought to me by a man. He told me how he soaked in a bath splashed with a few drops of the scented oil after school every day as a teen. His wise mum used it to calm his angry teenage boy angst.
Now an adult, he still likes to light a burner with lavender oil to help ease him into slumber. I was tossing and turning so decided to give it a whirl.
That was six months ago. Now I burn lavender oil for about an hour before I hit the hay each night. It's comforting, calming and makes my chilly share-house room feel like a cosy cocoon.
When it comes to alternative therapies I'm all about whatever works for you. If there's no science to back it up, but you're reaping the rewards, then go for it. But aromatherapy has brains behinds it.
Professor Shaun Holt from Victoria University in Wellington admits he's sceptical about most forms of non-traditional medicine. But aromatherapy, amongst a handful of others, he backs.

"It's one of those things that people scoff at," he says.
"It's not well understood, but it seems to work in the brain."
Research suggests scents activate the hypothalamus and the pituitary gland in the brain which release hormones that affect our mood, says Prof Holt, author of Complimentary Therapies for Depression. There's also some connection to the limbic system which is involved in education and memory.
There are around 40 essential oils that are used for treatment. Another of my favourites is eucalyptus oil. Add a few drops to your shower as you wash and the steam and scent will sooth any sickly feelings. I have also taken to burning a zesty lime and mandarin candle as I prep for work to get me pepped up for the day ahead.
The Aromatherapy Company founder, Sarah Townsend, says essential oils stimulate blood circulation, bring nutrients to the skin, stimulate the lymphatic system and dispose of waste products.
New Zealand-born Townsend has been passionate about perfume and its healing power ever since she was a kid. In 1990 she put it in to practise and built the successful Aromatherapy Co.

Here are her favourite scents:
* Wild Mint and Bergamot: It's citrusy but has many layers of fresh but sophisticated notes. It is a great diffuser or oil to have in a kitchen or living environment.
* Lavender: Lavender is my all time favourite essential oil because it induces sleep and is incredibly natural. I have trouble sleeping with such a busy lifestyle, so I burn this beside my bed in a burner every night and put in on my pillow to help me relax and get to sleep. I also use our sleep pulse point, which is lavender essential oil based.
* Tea Tree: The properties of tea tree are a little like magic. They are a wonder for healing and disinfecting a room for winter sickness. I use tea tree oil on blemishes overnight to heal them and dab a diluted tea tree oil on cuts and grazes. I also use it in a burner in a room when my children are sick to keep the illnesses at bay.
* Lemon: This wonder essential oil not only smells exotic and delicious like warm tropical islands, it's packed with benefits. Lemon essential oil is a natural disinfectant and has antiseptic properties, so it can be burnt consistently in the home to kill germs in the air. It doesn't only act as a disinfectant from the nasty bugs in your home, but can boost immunity by improving circulation, producing white blood cells and clearing the mind. It is specifically beneficial for preventing and aiding throat or respiratory infections, whilst also acting as a fabulous detoxifier for the skin. It can also be used as an all purpose cleaner and is amazing to put a couple of drops in your washing cycle.
* Rose Geranium: This floral based essential oil is my favourite smelling essential oil and I love burning this for its sweet aroma.
A few things to be careful of:
* Essential oils shouldn't be smothered on the skin. Lavender oil and tea tree oil is ok for a dab, but they all need to be mixed with a carrier.
* Essential oils aren't recommended for pregnant women.
* Always patch test any essential oils to check for a reaction.
Follow Life & Style Editor Nicky Park on Twitter.
Do you use aromatherapy? What are some of your favourite scents? What affect do they have?