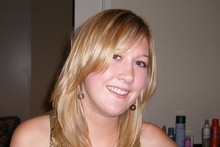 Richard Carter and his family faced a tough couple of months after what was a harrowing year.
These holidays Mr Carter, his wife Anna and their children Ryan and Nicole made the trip to see extended family in the Hawkes Bay and Wairarapa.
It was the first Christmas since his 23-year-old daughter Sarah Carter died after becoming ill while travelling with friends in northern Thailand.
Further milestones were Sarah's January 8 birthday and the upcoming anniversary of her death on February 6.
Mr Carter has allowed himself a break since Thai authorities released in August the results of a six-month investigation into a series of six deaths, including Sarah's, in Chiang Mai in January and February.
The closest the report got to an explanation was to say Sarah's death "can be explained by exposure to some chemicals such as those found in pesticides".
It did not identify any specific agents involved or how the poisoning might have occurred.
Mr Carter says it was only the attention of international media - which was supported by his constant agitating and interviewing - that resulted in the investigation even reaching that point.
"It's been a difficult time since the report came out. We've basically just focused on getting our lives together."
"But it certainly [can't] be as horrible as that first week. I mean that first day," he says, his voice trailing off into silence.
Mr Carter said he had reached the point where he could accept what had happened to his eldest child.
"But as my wife Anna said, Sarah's the first thing on her mind in the morning and the last thing on her mind at night. And a lot of time in between.
"Having the knowledge that Sarah's still around us in spirit, that helps ease the pain a little, knowing that she still lives on, and that she's still with us."
A website the Carters set up to help record and bring attention to instances similar to their daughter's, ThailandTravelTragedies.com, has been taken down.
"You can only take so much of revisiting the scene of the crime, where all the emotions start to come back too heavily.
"I was finding that I was entering the site with a degree of depression."
Recommendations made in the report such as the establishment of a panel to investigate stricter measures for the use of chemicals in Thailand are now Mr Carter's focus.
This year he plans to contact Thai and New Zealand authorities to make sure the recommendations weren't "lip service".
He has already been given cause for concern - emails sent to the owner of the Downtown Inn, where Sarah fell ill, and the mayor of Chiang Mai have gone unanswered.
"In fact, I haven't even had an apology from either of them. My wife and I haven't had one official apology."
With an increasing number of young Kiwis taking advantage of cheap flights to holiday in the region, Mr Carter says he wants to help shield other families from experiencing what his has.
He declined an offer from TV3's 60 Minutes programme to accompany a reporter to Chiang Mai, "as psychologically I couldn't face going to Thailand".
"But [this] year, if one of the current affairs programmes was going I'd be quite keen on doing a follow-up on exactly what they have done.
"I think that would provide a positive impetus on getting something done."
On the day of our interview, the Carters' golden labrador George, who had previously welcomed the Herald to their Bucklands Beach house, is a conspicuous absence.
Mr Carter is able to laugh when he explains that the dog died in his arms recently after being diagnosed with cancer.
"One positive thing about losing your daughter is that nothing ever in the world could even seem nearly as bad.
"George was like a member of the family ... but nothing else comes close to shaking you as much as that."
By Nicholas Jones

Email

Nicholas