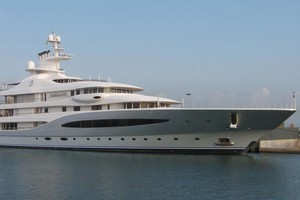 At 92m long and six storeys high, the latest superyacht to berth in Auckland during the Rugby World Cup could be mistaken for a hotel.
The Mayan Queen IV turned heads and dropped jaws as it sailed through the Waitemata Harbour on Saturday to its berth at Wynyard Quarter.
The yacht is owned by Mexican billionaire Alberto Bailleres, 78, who chairs Mexico's second-largest mining company, Industrias Penoles, one of the world's largest silver miners.
Mr Bailleres is ranked at No 66 on Forbes magazine's March 2011 list of the world's billionaires, with a net worth of US$11.9 billion.
A crew member would not comment yesterday on who was on board.
The Mayan Queen IV is one of several superyachts at three 90m and three 60m berths near Silo Park in the newly redeveloped Wynyard Quarter.
Acting Waterfront Auckland chief executive Rod Marler said the Mayan Queen IV would be in Auckland until early next year for maintenance and servicing work.
"It's providing jobs for the local industry, and obviously with that number of crew, they're in the Auckland economy."
Mr Marler said the berths had been set up because of the growth in the superyacht industry in Australasia.
"It shows that we've got the infrastructure, and it's a great vote of confidence in the New Zealand marine industry."
He said the Mayan Queen IV was one of the largest yachts to visit Auckland over the past six years and was already proving a drawcard.
Auckland harbour master Andrew Hayton said because the yacht weighed more than 500 gross tonnes it needed a Ports of Auckland pilot to enter and leave the harbour.
The Mayan Queen IV was built in 2008 in Germany and can sleep 16 guests and 24 crew.
The ship was designed by British superyacht designer Tim Heywood, and is listed as the 33rd biggest superyacht in the world by website superyachts.com.
Russian billionaire and Chelsea Football Club owner Roman Abramovich owns the world's largest superyacht, the Eclipse, which is 164m long.