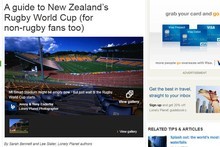 It's known as the "traveller's bible", but visitors who follow Lonely Planet's lead could end up in an empty stadium come the Rugby World Cup.
The Australian company is trusted by travellers the world over for the usually accurate and reliable information in its guidebooks.
But according to a Lonely Planet guide to next month's Rugby World Cup, the centrepiece of the tournament will be a rather decrepit-looking Mt Smart Stadium.
The sun-faded yellow and blue seats of the stadium are shown in the only photo accompanying "a guide to New Zealand's Rugby World Cup" published on lonelyplanet.com.
"Mt Smart Stadium might be empty now - but just wait till the Rugby World Cup starts," a caption read.
Eden Park - the venue for Auckland games - has been upgraded at a cost of $256 million, and will have an improved capacity of 60,000 for the tournament.
Fears the venue would not be able to handle the biggest sports event in New Zealand history were largely put to rest after a successful test-run during last week's Bledisloe test match.
Mt Smart has a capacity of 30,000.
The photo used by Lonely Planet was of the stadium before the East Stand was built in late 2004.
Yesterday, a Lonely Planet spokesman said the photo had been selected because Mt Smart Stadium would be used as a training ground during the Cup.
He said the caption accompanying the photo would be amended to reflect that.
Fiji, Ireland and England will train at Mt Smart Stadium during the Cup, and it may be used during the finals period.
The latest edition of the Lonely Planet's New Zealand warned visitors that Kiwis' characteristic friendliness could fade if the All Blacks were knocked out of the World Cup.
"If NZ dips out of the RWC in the finals rounds for the fifth consecutive time ... come armed with enough tissues to console a nation," it said.
By Nicholas Jones

Email

Nicholas