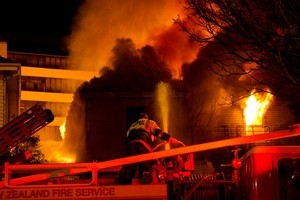 Firefighters battled a large blaze at a Christchurch address last night, with fears people could be trapped inside.
The Fire Service was alerted to the blaze at 17 Salisbury St about 7.08pm and found the property well ablaze, Southern communications shift manager Brent Dunn said.
"We did get a report when we got there that there was someone in the building, so we're treating it as 'persons reported' at the moment."
Seven fire trucks went to the scene and 28 firefighters managed to
put the blaze out around 8.40pm.
However, because the building had collapsed, it was too dangerous to check if anybody had been inside. That would be done this morning.
Owner Simon Hempseed said the building was an old house divided into four one-bedroom flats.
Because of damage sustained in the February earthquake, they had been vacant for some time.
"Well, it should be vacant. Someone might be camping in there - you don't know," Mr Hempseed said.
The Canterbury Earthquake Recovery Authority had begun to demolish three concrete-block garages at the front on Wednesday.