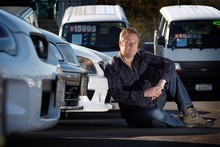 New Zealanders will pay thousands more for used vehicles or accept a drastic reduction in quality from next year as restrictions on the age of imports come in, used car sellers warn.
Emission standards to be introduced at the start of next year mean most Japanese cars made before 2005 cannot be brought into the country.
Used car dealers claim around 80 per cent of current imports will be ruled out, meaning Kiwis will either pay thousands more for imported cars or accept vehicles with higher mileage.
That claim has been rejected by the Government and new car sellers.
Graeme Macdonald, of Henderson used vehicle importer Croydon Wholesalers, said the typical used car buyer had a budget of $10,000 to $14,000.
That would not buy a good-quality imported car under the new restrictions, and buyers would be forced into buying inferior cars, he said.
"In New Zealand, searching out trade-ins, reconditioning them, putting them on the yard again - that will be the cheaper end of the market."
The Motor Industry Association (MIA), which represents new car sellers, said those predictions were not accurate.
Chief executive Perry Kerr said the price of imported used cars would go up, but that would have no impact on the consumer.
"Used imports don't determine the price of cars in the New Zealand market. The market is driven by the fact there are already 2.3 million vehicles on the road.
"The fleet turns over once every three years ... [newer imported vehicles] will slot into the particular age bracket they would have sold in anyway."
The MIA and the Imported Motor Vehicle Industry Association (IMVIA) recently met Transport Minister Steven Joyce to discuss the issue.
IMVIA chief executive David Vinsen said used car sellers wanted the new emission standards deferred for two years.
"Gradually over time, more and more models in Japan will be released into the second-hand market, so in two or three years we'll be back to a sense of normality again.
"It's a case of it being very difficult for consumers and trade to get through the next year without prices going up."
Mr Joyce told the Herald that the Government had decided to stick with the current schedule to provide certainty to the industry as a whole.
Mr Vinsen said imports were expected to drop by 50 per cent in January as a result of the emissions standards. Used car dealers were already struggling to bring in good-quality affordable imports because of increased competition from the Japanese domestic market.
Japan's earthquake and tsunami on March 11 destroyed 300,000 cars and halted production at many factories.
However, Mr Vinsen said supply had been most influenced by the increasing number of Japanese opting for used cars because of the struggling economy.
By Nicholas Jones

Email

Nicholas