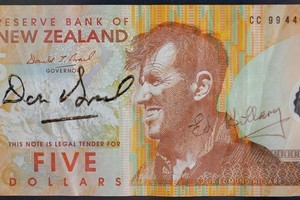 The familiar face of Sir Edmund Hillary on the $5 note could be under threat as the Reserve Bank considers a redesign of New Zealand's banknotes.
Head of communications Mike Hannah said the review was driven primarily by the need to update security features on the currency.
"We've kicked off a planning process, and have no decisions made at the moment.
"We're focusing first on security. And it's on the table what could change as a result of those security changes."
But fans of Sir Ed, Kate Sheppard, Sir Apirana Ngata and Lord Ernest Rutherford need not panic - the note fundamentals could well stay the same.
"We are well aware that this is our most popular product ... We're planning a press conference in a couple of weeks, and at that stage we will outline what the project is," Mr Hannah said.
Any new notes would not be circulated until late 2014.
In 1999, a new series of notes was introduced, with the material changing from cotton to polymer propylene.
The last time a new group of New Zealanders were immortalised on banknotes was in 1991 and 1992.
David Galt, president of the Royal Numismatic Society of New Zealand, said the selection of new faces was not controversial at the time.
"Banknote design has actually been quite free from high-profile public debate ... I think you could argue that the Reserve Bank over the years have done a good job with making those decisions."
Mr Galt said that contrasted with some of the "huge" controversy surrounding some changes in coin designs.
"Particularly the original first set of 1967 coin designs, before we settled on the set that was designed by James Berry."