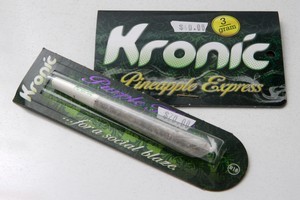 Synthetic cannabis is being marketed on mainstream youth-orientated radio stations, despite the industry and Government supporting strict advertising controls.
Advertisements for Kronic are being broadcast on MediaWorks radio stations The Edge and Mai FM, often during the day.
MediaWorks has defended its decision to run the adverts, but last night came under attack from Associate Health Minister Peter Dunne.
"The Government is clearly signalling its position on Kronic and that restrictions are just around the corner for the very good reasons of the safety and wellbeing of young New Zealanders," Mr Dunne said.
"Their position stinks. Their ethics are nonexistent or close to those of the street-corner dealer. Let them never talk about being good corporate citizens - they clearly are not."
But a spokeswoman for MediaWorks said the network could not change the law - unlike the Government.
"We have made decisions that are within the law. It is for the Government to make the legal position clear rather than question our ethics."
MediaWorks abided by Advertising Standards Authority guidelines, she said.
"We use this framework to make consistent and fair decisions on whether or not we accept advertising for broadcast.
"Until ... Parliament or ASA codes determine that Kronic should not be sold or advertised we have no basis for refusing to accept advertising that is lawful and complaint with advertising codes."
Adverts for the Illusion and Amsterdam Cafe brands of synthetic cannabis have also run on The Edge - although the products' manufacturers insist it is only late at night.
A spokesman for The Radio Network, which includes the ZM and Flava stations, said that to his knowledge Kronic had not attempted to buy advertising with the network.
"The company policy is that we would not accept advertising for this product."
The Radio Network is part-owned by APN, which owns the Herald.
Matthew Wielenga, the director of Lightyears Ahead, the company behind Kronic, could not be reached for comment.
However, a statement on Kronic's website said the company strongly supported stricter advertising controls: "We would like to see free sampling banned and advertising restricted to instore only."
Legislation to make synthetic cannabis a restricted substance has been fast-tracked and is expected to come into effect by mid-August.
Advertisements will be restricted to within stores, in a similar way to tobacco.
NZ Drug Foundation executive director Ross Bell said the radio adverts exposed as false the industry's claims of responsibly providing a safe alternative for cannabis smokers.
"If that was true, they wouldn't allow their product to be sold in corner dairies, they wouldn't advertise in mainstream, youth-focused radio stations, and they wouldn't have the online presence that they do."
Mr Bell said the industry was "making hay while the sun shines" and could only blame itself if the Government responded harshly.