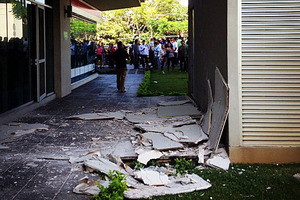 A powerful 7.6-magnitude earthquake struck near the Pacific coast of Costa Rica , killing two people, briefly knocking out power and communications, causing panic and triggering tsunami warnings, authorities said.
Residents reported trees toppled, damaged rooftops and roads split open by the quake near the epicenter in the coastal province of Guanacaste. People rushed into the streets as far away as San Jose, but there were no immediate reports of casualties.
"We felt it very strongly, and ran, afraid that the house was going to come down. People are very alarmed," a resident of the area told a local radio station.
A tsunami warning was issued for Costa Rica, Panama and Nicaragua, but later cancelled, the US Pacific Tsunami Warning Center said. Initially, the warning had extended from Mexico to Peru.
Still, Nicaragua's weather service director Javier Mejia told local media there had been reports of the sea pulling away from the coast in San del Sur, and that high waves could hit that coastal region later in the day.
The US Geological Survey initially said the quake struck off the Pacific coast of Costa Rica and measured 7.9 on the Moment Magnitude Scale, but revised both the intensity and location in a subsequent advisory.
In its latest advisory, the USGS said the quake measured 7.6 and was 10 kilometres northeast of Hojancha, Costa Rica.
A map showed the quake on land near the Pacific coast, in picturesque Guanacaste province, a tourist area popular for its cliffs, beaches and surfing.
In a country used to seismic activity, people in the area were stunned by the strong quake.
"We were in the pool. And a wave rose up in the pool," one nervous tourist said on television in Pinilla, near the quake's epicenter.
In San Jose, some buildings and schools were evacuated. Many areas of the capital also lost power and cellular phone service for a brief period.
Thousands of people abandoned buildings on San Jose's downtown Paseo Colon, and gathered in the streets outside for at least an hour as a precaution.
Small landslides were reported on the highway that links the capital to the Pacific coast, but none was large enough to block vehicles.
The quake also was felt strongly in neighboring Nicaragua, Panama and El Salvador.
Nicaragua's government spokeswoman, Rosario Murillo, said no damage had been reported, but a tsunami alert was in effect and all emergency systems had been activated.
In San Salvador, civil protection agency spokeswoman Glenda Duran told AFP that first responders had been put on alert.
"The order is that the population in coastal areas get away from beaches to secure zones over the next three hours," she said.
Panama's director for civil protection, Arturo Alvarado, told CNN that the quake was felt most strongly in a border region with Costa Rica.
"It's a very strong quake. We pray to God that there is no damage," he said.
In February 2010, a massive 8.7-magnitude quake earthquake hit Chile's central Maule region, south of Valparaiso, generating tsunami waves, killing more than 500 people and causing billions of dollars in damage.
- AFP