Passions run high before Civil Union debate ends
10:09 PM Thursday Dec 9, 2004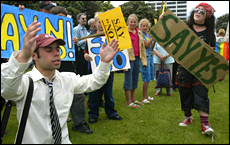 Nathaniel Waikari of Porirua seeks divine intervention to stop the Civil Union Bill being passed into law. Picture / Mark Mitchell
"We are the champions, my friends" screamed the old Queen song from the speakers across Parliament's forecourt and half the crowd roared and waved their orange balloons.
The other half, carrying placards firmly opposed to the Civil Union Bill, remained closed-mouthed.
It was midday, five and a half hours before the final 65-55 vote, and opponents had planned a silent protest.
But the silence also reflected something deeper - they knew they had lost.
Then Campaign for Civil Union organisers, who have strongly rejected suggestions that the bill allows gay marriage, provocatively pushed another button and on came a familiar wedding tune and the song Chapel of Love.
" ... we're going to the chapel and we're gonna get married ... "
The "Mum and Dad Say No to Civil Union Bull" banner trembled.
Later, inside Parliament, MPs resumed their final debate on the bill and continued to argue the toss over what has become the key point of contention - was it gay marriage or not?
While some MPs from the same political parties sang the same tune, others simply contradicted their own colleagues.
National MP Nick Smith argued it was gay marriage, as did United Future.
Labour and the Greens argued it was not.
"Is this gay marriage?" asked Green MP Nandor Tanczos. "Well, I wish it was. We wanted to amend the Marriage Act."
New Zealand First leader Winston Peters said the Government was claiming the law would bring about "one law for all" but it wouldn't.
It was simply a "sop" to the gay community, but one which ultimately treated them as second-class citizens because it denied them the right to marry.
Fellow New Zealand First MP Dail Jones declared the opposite, saying "marriage should only be for a man and a woman".
Labour MP Russell Fairbrother said Mr Peters was right.
"This is a sop for the gay community", which was not being accorded equal rights with heterosexuals.
The Government had compromised because many New Zealanders were simply not ready for legal gay marriage, he said.
Tense and pale-looking, NZ First MP Ron Mark sat through the debate, listening intensely, sometimes with his head in his hands, but not contributing.
When the vote was tallied it emerged that the MP whose final vote was the hardest to pick had voted against the bill, despite supporting its first two readings.
He told the Herald afterwards he had entered the debating chamber still unsure about his final position and even considered an abstention.
The usually conservative MP had previously alluded to having a gay family member, which had influenced his view.
He said afterwards that two things had finally made up his mind.
"An open lesbian woman approached me and said she was opposed to the bill because it did not give her equal rights."
Secondly, he believed the issue should have been put to a referendum, as promoted by his fellow NZ First MP Brian Donnelly.
Mr Mark conceded the day had been very stressful and said that despite his "no" vote he had been horrified by some of the comments made by other opponents.
Mr Donnelly had also refused to confirm his final support for the bill if the referendum was voted down and is understood to have also entered the House yesterday still weighing up his options.
But as expected, the MP, who gave a passionate speech earlier in the week praising his family's support for his gay brother, voted for the bill.
National MP Maurice Williamson, who had so far voted against the bill but admitted being infuriated by "extremists" at both ends of the debate, is also believed to have seriously considered a last-minute change, but finally voted against it.
Further clouding the picture were acknowledgments by National MPs Roger Sowry and Judith Collins that their position would had been different had the bill allowed gay marriage.
Mr Sowry said the bill was dishonest, but he would have voted for gay marriage, while Ms Collins said, based on the same reasoning, that she probably would have too.
Cabinet minister Chris Carter said he and his gay partner had met 31 years ago and attended the weddings of many friends.
"I look forward to the chance to extend a similar invitation to commemorate my partnership.
"Gay people in New Zealand were hidden for a long time. Since 1986 we have become more visible ... but our families have not. It is time we brought them into the open because I believe much of the residual public discomfit with homosexual families lies not with a fault in the hearts of people, but with the simple fact that people fear and misunderstand what they don't know."
The bill's passing was heralded by loud cheers and claps in the packed public gallery and once again silence by opponents.
Destiny Church leader Pastor Brian Tamaki, sitting with black-suited supporters, said the bill was a tragedy for New Zealanders. "They may have seemingly won the battle, but they haven't won the war."
The church planned another march next year.
Former MP Fran Wilde, who shepherded in homosexual law reform legislation, also attended and said the tenor of the debate was "practically civilised" compared with the sometimes "sickening" talk 20 years ago.
Copyright ©2015, NZME. Publishing Limited