Ask Kamo: Debate over All Black centre will roll on for most of the season
By Ian Jones
5:30 AM Friday Mar 1, 2013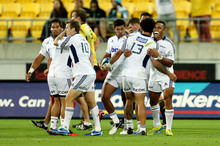 Blues players celebrate Charles Piutau's try. Photo / Getty Images
Q: What do you think was the single biggest talking point of the round?
Andrew
It would be easy for me to mention the extended power of the TMO with reference to the Blues/Canes game, but I think on that occasion Vinnie Munro got the call right and I applaud any official who makes a clear, decisive call. And let's face it, during the course of this season the Blues will get a decision go their way and even things out. It's called "swings and roundabouts" and we all accept that in sport.
The main talking point for me was the performance of our centres after the Richard Kahui announcement and the head knock to Conrad Smith, that thankfully was less serious than first thought. This is an area of huge importance to New Zealand rugby and every No 13 will be talked about, analysed, and performance debated before the year end. The stand-out performers for me last weekend were the Blues' player of the day, Rene Ranger, and the slick Tim Nanai-Williams from the Chiefs.
Q: How are the Blues going to deal with a fired up Crusaders?
Jack Kelleher
By being more ruthless, clinical and determined than the Crusaders. They must match and better everything the opposition does tonight. In all departments. The red and blacks will be entering Fortress Eden Park and if the Blues want to earn respect in this competition and win back their fan base then it is here they must set out their stall. The Crusaders will come at the Blues, that is a given, but if you know it's coming and plan for it, then you can soak up the onslaught in the game plan. The Blues must start tonight like schoolyard bullies protecting their bit of the playground. Don't let the visitors settle, ruffle your more fancied opposition's feathers and be the only team firing the shots.
Q: What was your highlight of the first full round of S15?
John
The attitude and enterprise of the Chiefs were among my highlights for round 1. I thought their willingness to use the football, and the width and speed they played with it, set a fantastic benchmark. After their success in Dunedin it will be interesting to see how many other teams follow that same approach. I was also pleasantly surprised by the Southern Kings. This is a team that has entered the competition under all sorts of controversy and if we want this to be the best franchised-based rugby competition in the world, then it is imperative that we have 14 competitive teams. Did I mention the Blues - awesome start.
Former All Black Ian Jones answers your questions on the state of rugby. Send your questions to ask.kamo@nzherald.co.nz
Play Virtual & Fantasy Super Rugby
Test your tipping skills with Virtual or create your dream team with Fantasy Super Rugby and be in to win a slice of over $10,000 in prizes.
Be part of the game and sign up now.
By Ian Jones
Copyright ©2016, NZME. Publishing Limited