Play of the day: Messi gets hit for six
10:35 AM Thursday Feb 28, 2013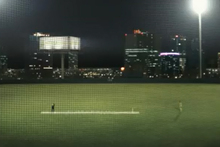 Barcelona striker Lionel Messi tries his hand at cricket in new advertisement for Herbalife. Photo / Youtube.
If being the best footballer in the world becomes a tiresome gig for Lionel Messi, there are many different sports he would probably really excel at.
However, evidence from the latest Herbalife commercial suggests that cricket is definitely not one of them.
In the video, Messi displays all the timing and grace of a drunk-uncle at a backyard game with his batting, while his slingshot bowling action would make Lasith Malinga blush.
The Barcelona striker sees his successive deliveries dispatched over the boundary, before changing tack and using his trusty left-boot to deliver a ball that leaves the batsman looking as confused as we are about what on earth is going on.
This is not Messi's first foray into the world of acting and with these two gems on his CV, perhaps a future on the big screen is more likely.
Lionel Messi and Kobe Bryant compete on Turkish Airlines
Lionel Messi and Cristiano Ronaldo have a text-off
See also;
Play of the day: Behind the back table-tennis winner
Play of the day: Full court bounce shot
Play of the day: Toddler's amazing trick shots
Play of the day: Pollard's amazing catch
Play of the day: Huge rugby brawl
Play of the day: Player's length of pitch goal
Play of the day: Shoelaces lead to red card
Play of the day: Stunning scorpion strike
Play of the day: When tennis serves go wrong
Play of the day: Freak injury for Black Cap
Play of the day: Snow leaks through stadium roof
Play of the day: Freak half-court shot
Play of the day: Rory and Tiger go shot for shot
Play of the day: Ice hockey trick shot
Play of the day: Keeper's two amazing saves
Play of the day: Mourinho's meltdown
Play of the day: Kenyan runner tackled, still wins
Play of the day: Pitch invader triumphs
Play of the day: Rangers' goalkeeper scores shocker
Play of the day: Cheekiest goal ever?
Play of the day: Amazing squash rally
Play of the day: Goalie's awful free-kick
Play of the day: The next Usain Bolt?
Play of the day: Lego rugby re-enactment
Play of the day: World record drive
Play of the day: World's fastest rugby player
Play of the day: Worst free throw ever
Play of the day: Pacquiao knocked out cold
Play of the day: World's happiest fan
Play of the day: Kolarov's xmas
Play of the day: Teddy bear toss
Play of the day: Williamson's super catch
Play of the day: Amazing golf trick shot
Play of the day: Golfer smashes simulator
Play of the day: A free-kick howler
Play of the day: Diamond Black's bizarre rain dance
Copyright ©2015, NZME. Publishing Limited