Interiors: Let there be light
By Leanne Moore
10:00 AM Sunday Mar 3, 2013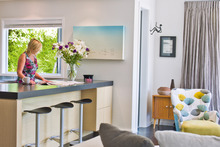 Jude Mander in her lovely home. Photo / Your Home and Garden
Living at the beach in the seaside village of Sumner, in Christchurch, was a long-term goal for Jude Mander and her husband Steve, but the home they were considering buying had small, dark, timber-panelled rooms and was subject to tight building restrictions because it was on a cross-leased site.
"The place had been on the market for months," says Mander. "We'd seen it in passing and called in on open days but it was hard to see what you could do with it."
In 2006, after much deliberation, the couple put in an offer a week before auction day and it was accepted.
After two years of living in the cramped, dark bungalow, the Manders started the renovations.
"We never really considered bowling it," says Mander. "It had beautiful features that were in character with its surrounding neighbours, and we knew we couldn't get permission to build a two-storey replacement."
Work began with the demolition of a garage at the rear of the site and an extension of the back wall of the home to create an open kitchen, dining and family room. Double-height doors in combination with a high stud create a feeling of spaciousness, with large french doors peeling back to provide flow to a sunny, sheltered courtyard garden.
Set a few metres back from the footpath, the garage adjoining the home doubles as a windbreak. Its cedar frontage provides a contrast to the home's white weatherboards.
Mander admits it was a difficult assignment to design a layout that would meet the terms of the cross-lease and provide the right environment for the couple and their two children, Kirsten, 23, and Sam, 21. While drawing up the plans was a big challenge, the building phase was even tougher.
"It was major. We spent seven months using a chilly bin, gas burners and a microwave in the sunroom as a kitchen, doing dishes in the bathtub and climbing a ladder to get upstairs to the bedrooms - and all jammed into two rooms."
The home's nautical theme was inspired by its beachfront location and the couple's shared love of the ocean - Jude is a volunteer with the local coastguard and Steve comes from a long line of yachtsmen. The wall outside the kitchen is fitted with racks for their collection of surf and paddleboards, and an outside shower next to the laundry is ideal for when friends and family return from the beach.
"After paddleboarding we come back and just dump our gear," says Mander. "It's great in summer."

Style tips
Original structure
Use the existing structure of older homes to advantage by retaining the character features that work with modern additions.
Light brigade
The Manders wanted a light, airy home with a beachy feel, so they removed the dark wood panelling and opened up the small rooms to create larger spaces.
By Leanne Moore
Copyright ©2015, NZME. Publishing Limited