Permit bar too high for charity dig
5:30 AM Wednesday Feb 27, 2013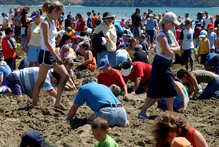 Auckland Council says it would have accepted three portable toilets for the Big Dig but was too late communicating this to the Orewa Lions Club. Photo / Dean Purcell
A charity fundraising event had to be cancelled because the organisers couldn't cope with Auckland Council requirements.
This year the Orewa Lions Club's annual Big Dig was told it needed 20 portable toilets - but the charity couldn't afford the $1800 it would cost to hire them.
The council has since said it would have accepted three portable toilets but when the misunderstanding was discovered it was too late.
One of the organisers, Brian Stevens, said this was the first time the event had not been held in 33 years.
It was meant to be held on Waitangi Day.
Last year it attracted about 3000 people and raised about $6000, all of which went back to local organisations.
"It's a real shame we couldn't go through with it this year, but the requirements were too much," Mr Stevens said.
At the Big Dig, participants comb a section of sand for tickets worth small prizes.
Last year, more than 1000 prize tickets were buried in the sand by Lions volunteers, and all but 20 of them were claimed on the day.
Other consent conditions included the provision of a tent staffed by two people for lost children, and four volunteers to patrol the waterline in high visibility gear during the event.
Neither had been required before and Mr Stevens said the club didn't have that many people who could help.
Mr Stevens said the local board supported the club's permit, but higher up did not.
"We never had this problem under the Rodney District Council," he added.
The council's manager of community development, arts and culture, Louise Mason, said the main priority was ensuring a safe event for all who attended.
The portable toilet requirement was because the numbers expected to attend would have overloaded public toilet facilities.
"When explaining this to the event organiser, unfortunately there seems to have been a miscommunication where the organiser thought they needed to provide 20, which is in line with the industry standard, when we would have accepted three.
"By the time we realised a misunderstanding had occurred and contacted the event organiser, it was too late and they had already cancelled the event."
She said the council understood the funding pressures that community groups were under and was "absolutely willing" to negotiate wherever realistically possible.
Whangaparaoa resident Alister McKinnon wrote a letter to the Herald about the event being cancelled. "The cancellation was disappointing because the Orewa community and people from further afield were denied a popular event.
"The money raised by the Lions Club through this event is also not available to local organisations."
Mr McKinnon said the local triathlon was also cancelled because of the cost of traffic management plans and the training of event managers.
"Both these events had been run without any problems under guidelines set by the Rodney District Council. The Auckland Council has imposed a new set of requirements that are far more expensive and restrictive."
Copyright ©2016, NZME. Publishing Limited