Kiwi beaches don't make the cut
2:00 PM Tuesday Feb 26, 2013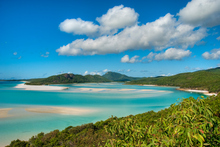 Whitehaven Beach, Queensland, Australia. Photo / Thinkstock
The world's top 10 beaches have been named in an international survey and the New Zealand coastline hasn't made the list.
The TripAdvisor website has announced the world's top 10 beaches, a list based on millions of reviews and ratings by international tourists, marking the first annual awards for the world's best beach, the Sydney Morning Herald reported.
Rabbit Beach on the island of Lampedusa off the south coast of Sicily came out on top as best in the world, described as an "unspoiled nature reserve" and one of the few spots in the Mediterranean where loggerhead sea turtles go to lay their eggs.
"Rabbit Beach's is clearly a big hit with travellers and it's easy to see why with its stunning turquoise water and white sand," said TripAdvisor spokeswoman Emma Shaw.
Second place was awarded to Grace Bay in the Turks and Caicos and Australia's Whitehaven Beach, on Whitsunday Island, came in third with its seven-kilometre stretch of white silica sand.
But none of New Zealand's revered beaches featured on the list, which included beaches in Brazil, Spain, Puerto Rico, Bermuda and even Wales.
Rhossili Bay in Swansea, Wales was the wild card winner, defeating more exotic locations to edge its way into the top 10.
"We are delighted, but not surprised, that Rhossili Bay has been acknowledged ... We hope that many more visitors continue to enjoy its outstanding natural beauty," David Phillips, leader of the City and County of Swansea, said in a statement.
The world's top 10 beaches
1. Rabbit Beach, Sicily - Italy
2. Grace Bay, Providenciales - Turks and Caicos
3. Whitehaven Beach, Queensland - Australia
4. Baia do Sancho, Fernando de Noronha - Brazil
5. Flamenco Beach (Playa Flamenco), Culebra - Puerto Rico
6. Playa de las Catedrales, Ribadeo - Spain
7. Lopes Mendes Beach, Ilha Grande - Brazil
8. Horseshoe Bay Beach, Southampton Parish - Bermuda
9. Eagle Beach - Aruba
10. Rhossili Bay, Rhossili, Swansea - Wales, UK
Copyright ©2016, NZME. Publishing Limited