Ask Lonely Planet: Unparalleled freedom in Iceland
11:00 AM Friday Mar 1, 2013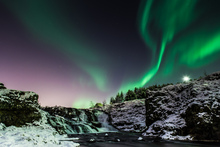 The aurora borealis - nature's northern lights - is a big 'must see' for most visitors to Iceland. Photo / Supplied
My friend and I are planning a sort of last-gasp big trip this year and are keen to see Iceland. We are in our 60s and 70s but are both reasonably active. We were interested in hiring a car and driving the perimeter stopping at interesting places. If we had a week, would that be the best option or would an organised tour be more sensible? We would probably go around June. We may travel to Iceland from Russia and then head to North America. - Mopsy
Lonely Planet's Sarah Bennett and Lee Slater write:
Driving in Iceland gives unparalleled freedom to discover the country. It's also fairly straightforward, thanks to good roads and light traffic. The Ring Road (Route 1) circumnavigates the island and is mostly paved and, beyond it, fingers of tarmac or gravel stretch out to most communities and many attractions. Along the coast, driving can be spectacularly scenic, and incredibly slow as you weave up and down over mountain passes and in and out of long fjords. Even so, a two-wheel drive vehicle will get you almost everywhere in summer when you want to visit.
Route 1 is 1339km long. Touring around Iceland in one week without venturing off this road would mean driving about 200km a day - not an impossibility, but there wouldn't be much time to stop and smell the sulphur. A better option may be to focus on a smaller area, such as the 300km Golden Circle route around Reykjavik that takes in thundering Gullfoss, one of Iceland's most impressive waterfalls, Pingvellir National Park and coastal beauties that include the tiny fishing village of Stokkseyri and the milky-Blue Lagoon.
Although Iceland's hire-car rates are expensive by international standards, they compare favourably with bus and domestic air travel. Despite the high costs, many companies run out of cars in high summer, so it's advisable to book ahead. Numerous rental companies are at Keflavik International Airport, 48km southwest of the capital, Reykjavik.
Joining other travellers on an organised tour may not be to everyone's taste, but Iceland's rugged terrain and high costs can make it an appealing option. A tour may save you time and money and allow you to reach isolated places your hire-car just can't go.
Many tours are by bus, others by 4WD, and some by snowmobile or light aircraft. Most let you tack on adventure activities such as rafting, kayaking and horseriding. Operators recommended in Lonely Planet's Iceland guide include Gudmundur Jonasson Travel, Activity Group and Isafold Travel. The Iceland branch of Lonely Planet's Thorn Tree forum is another excellent source of information.
Copyright ©2016, NZME. Publishing Limited