Cricket: McCullum cool on hot spot
2:27 PM Sunday Feb 24, 2013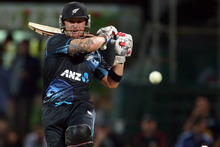 Brendon McCullum. Photo / Getty Images.
Lost amid England's one-day series win at Eden Park last night was the latest failing of the decision review system.
With Ross Taylor and Brendon McCullum at the crease attempting to rebuild the Black Caps' faltering first innings, Taylor was adjudged by umpire Chris Gaffaney to have been caught behind.
Taylor immediately appealed the decision and it was referred to third umpire Rod Tucker who, after a prolonged series of replays, could find no conclusive evidence to overturn the on-field decision.
Much to the chagrin of both Taylor and the crowd, the former captain was given out and trudged off while McCullum entered into animated conversation with Gaffaney.
The cause of the consternation was simple - hot spot, which uses infra-red imaging to illuminate whether the ball has made contact with the bat, found no such indication on Taylor's blade.
Both the 17,000-strong crowd at Eden Park and the batsmen in the middle had watched on the big screen hot spot replays which appeared to exonerate Taylor, leaving them none too impressed when the dismissal was upheld.
A batsman generally knows whether he's hit the ball and it's unlikely Taylor would have used his side's only appeal if he felt he had made contact. But there was a noise when ball passed bat and that was the basis of the umpires' calls.
"Ross' review, I still need to seek some clarification on that," McCullum said. "The sound was the reason it was given and I wondered if there were fireworks in Grey Lynn which could have been going off at the same time.
"The clarification [needed] is the lack of an edge on hot spot. I would have thought that was conclusive enough evidence."
McCullum was keen to stress he wasn't using the confusion created by the DRS as an excuse, but questions did remain over the controversial system.
"That wasn't the losing of the game - let's get that out there as a key message," he said. "We were outplayed in many different areas and periods throughout the game, but it was just a bit frustrating at that point.
"I don't know the technology behind [hot spot] but, to me, if you nick the ball, it shows up on hot spot, and if you don't nick it, it doesn't."
With that seemingly straightforward analysis being ignored, many were left wondering what purpose remains for hot spot - or even the DRS as a whole.
The inconsistencies in its application have plagued the system since it was introduced in 2009, and those inconsistencies are part of the reason the Board for Cricket Control in India have refused to implement the DRS in home matches.
"It has its good days and it has its bad days," McCullum said. "I think, providing it's used properly and there's some consistency in it, it's a really good tool. If you can make sure you get the right decisions then I think it's got a really good place in the game.
"There are still some issues that need to be resolved with it, and [yesterday] was probably one of those cases."
Meanwhile, McCullum allayed fears of New Zealand's test batting lineup being further weakened by confirming his abdominal strain was minor. BJ Watling assumed wicket-keeping duties yesterday after McCullum suffered the strain while batting but he said, with more than a week before the first test, he would be fit.
- APNZ
Copyright ©2016, NZME. Publishing Limited