Australia: Hit the track
9:30 AM Monday Feb 25, 2013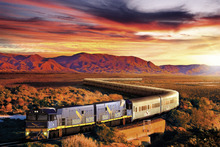 The Indian Pacific train passes through the Flinders Ranges on its journey from Sydney to Perth. Supplied
It's as hot as hades. And flies are king. Abandoned buildings decay in the heat and dust and a skinny dog slinks nearby, hoping for a scrap. Welcome to Cook, South Australia.
Population: two.
Cook is a modest base most of the time. But twice a week that number swells briefly. That's when the Indian Pacific cross-country train stops and from its carriages emerge a mass of sweaty tourists, keen to plant their foot in an Outback settlement. Or what's left of one.
The school and shop are boarded up and a faded sign urges visitors to "Come to Cook if you're crook", and thus save its hospital. It didn't work. In fact, the only sign of life is the weeds growing in the long filled-in public swimming pool.
It's a sad disintegration but Cook still serves a purpose. It gives its city-slicker train travellers a taste of life in the Outback. And after you've felt a wind as hot as a blowdryer blast into your face and be assaulted by armies of relentless flies, it's hard not to leave without admiration for those all over the continent who choose to make a life in such an unforgiving environment.
It wasn't all so dramatic on the 4352km, three-and-a-half day ride from Sydney to Perth. The journey starts with a surprisingly intimate tour of Sydney's western suburban sprawl.
Boring it is not.
From the comfort of your cabin or lounge window, you can watch as towering apartment blocks loom over bored commuters waiting on train platforms, before the scene gives way to the Australian version of the quarter-acre paradise, stand-alone brick houses with pools in the backyard and washing flapping on rotary lines. Malls appear and schoolboys in impossibly bright uniforms play cricket on a perfectly-manicured oval.
By late-afternoon, suburbia has given way to what Aussies call "the bush". The Blue Mountains boast gumtree after gumtree across scattered rocky outcrops, but no mountains. The dulcet tones of a pre-recorded tour guide comes over the intercom, announcing the reason for the misnomer. The mountains are actually an eroded plateau.
You can't really blame the Aussies for pulling this one. Blue Eroded Plateau really doesn't have quite the same ring.
And, whatever the name, it's still beautiful. The intercom voice talks about how the settlers opened up the land beyond the mountains for development. Suffice to say, it was an epic effort.
The mountains look to me like a massive fire hazard and I'm not surprised when rolling through Katoomba we pass a mural showing a large bushfire. In the hills behind the town, smoke rises from a real fire, seriousness unknown.
We reach the rally car racing town of Bathurst at dusk. On the platform wait about 100 excited children and, presumably, their parents.
They're there to see former Westlife singer and current Australia's Got Talent judge Brian McFadden, the reason myself and about 40 other members of the media have been invited on the Indian Pacific.
We've been invited on the annual Christmas train, a journey that includes stops in several more Outback communities than usual and acts as a thank you to those communities for supporting the train. McFadden is the latest in a long line of singers invited to perform for those communities and the people of Bathurst are first cab off the rank.
The adults smile politely, but it's clear the kids love it. And it only gets better for them. Once McFadden finishes his set an even more popular guy emerges from the train, Santa.
The scene is repeated the following morning as the train arrives in the mining town of Broken Hill just after dawn.
I skip the show and wander around town. You can't learn much about a place in 40 minutes, but Broken Hill's mining heart is clear to see, and not just because of the massive hill that gives the town its name. Street names like Sulphur, Uranium and Tin brand the town unmistakably with its history.
We leave the town and its waving children and head out into miles of scrubby bush where, it is said, we are most likely to see kangaroos and emu.
As one of the few overseas journalists on board, I am more excited by the prospect of seeing the odd roo than most, but Australian heads still turn when we spot one bouncing along.
Another stands to attention as the train passes; the train's PR staff assure dubious journalists that it is not a statue placed to please tourists.
It's westward-ho and we soon cross the border into South Australia, where mile after mile of golden wheat fields, punctuated by the odd harvester or farmhouse, greet us.
The train bears south so a three-hour afternoon stop can be made in the pretty city of Adelaide before retracing its tracks north.
By morning we have entered the 200,000sq km Nullarbor Plain. This massive, almost treeless plain takes five hours to cross. Its 478km stretch of track is the longest straight rail line in the world.
Oddly, it never seems boring. The landscape is so different, so surreal that I can't help looking at it. And when I'm not looking at it it's because I'm in the restaurant or lounge car, or stopped at Cook or Watson, another point on the map which boasts nothing more than a sign and a half-dead tree haphazardly decorated with tinsel that fair glistens under the Outback sun.
Watson is another Christmas train stop, but it feels more special than those at Bathurst and Broken Hill. Here the families, exclusively Aboriginal, have travelled far and wide to hear the voice of McFadden and the laughter of Santa, or HoHo as the kids call him.
One family travelled 360km and camped out overnight just to be there.
Melvina Smart, of Yalata, drove two hours to meet the train, but reckoned it was worth every second on the dusty, bumpy road.
"The kids really look forward to it every year. I like them both, but the kids really love seeing Santa."
As for those of us on the train, we have our own special moment later in the afternoon.
Crossing the border between South Australia and Western Australia it becomes clear a terrific storm, rare in these parts, is brewing.
Soon thunder is rumbling and rain is falling. The landscape, previously so yellow and dry, turns brown and muddy as its limestone soil fails to drain large puddles forming around the saltbush.
It's an awesome sight.
By evening, we've reached another mining town, Kalgoorlie, and another good turnout for the stars on the train. By morning, we're nearing Perth, our journey almost at an end.
The final few hours are lovely, as we roll past rivers and bush and reflect on the last three days travelling across Australia.
At Perth, a friend is waiting to meet me, promising days at the beach and nights on the town.
The adventure goes on.
Websites
For more information on the Indian Pacific train or Australian tourism in general, visit:
• greatsouthernrail.com.au
• australia.com
• sydney.com
• perthtourism.com.au
• outback-australia-travel-secrets.com
• Cherie Howie travelled courtesy of Great Southern Rail, Australia.
Copyright ©2016, NZME. Publishing Limited