Paul Casserly: TV shows about fictional radio stations
3:15 PM Thursday Feb 21, 2013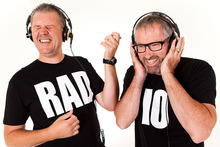 Paul Ego and Jeremy Corbett star in The Radio. Photo/supplied
TV3's Friday night comedy The Radio is the latest programme to be based around a fictional radio show, on a fictional radio station. Here's five others. (BTW the station on Treme, WMOZ, doesn't make the list because it's real.)
1. WKRP In Cincinnati
This is the benchmark. The 1970's sitcom surely had one of the best ensemble casts of characters of all time: The stoned Johnny Fever, the superfly Venus Flytrap, uptight newsman Les Nessman, busty Jennifer Marlow, mousy Bayley Quarters (ie hot when she takes her glasses off), and the super sleazy salesman Herb Tarlek. Here's one of the best scenes about a failed thanksgiving promotion, which involved dropping Turkey's from a helicopter. (I'm sure some local station did something similar with money a while back that also turned a bit sour.)
2. Alan Partridge's Mid Morning Matters
This is the fictional show from the fictional North Norfolk Digital, and is the most recent blast of wireless inspired genius from the world's most appalling DJ/radio personality, Alan Partridge (Steve Coogan).
3. FM
This British show wasn't screened here as far as I can tell but it was pretty good, partly due to the charms of its star Chris O'Dowd, (I.T Crowd, Girls) who plays a slightly desperate DJ on a hip London station. Our own Ladyhawk once appeared, although not in this pant wetting clip.
4. Northern Exposure
Okay so the whole show wasn't about a radio station but KBHR 570 AM and its DJ Chris Stevens (John Corbett) were at the heart of this enjoyably cheesy 1990s favourite set in Alaska.
5. Radio Wha Waho
Before The Radio there was this 1993 bilingual sitcom, kindly described by NZ On Screen as a "Maori style WKRP in Cincinnati".
Copyright ©2015, NZME. Publishing Limited