Recipe: Strawberry swirl semifreddo
By Donna Hay
5:00 AM Saturday Feb 23, 2013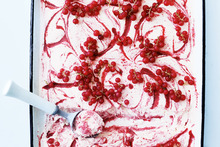 Strawberry swirl semifreddo. Photo / Donna Hay Magazine
Serves 6-8
• 3 eggs
• 2 egg yolks, extra
• 1 tsp vanilla extract
• 1 cup caster sugar
• 2 cups pouring cream
• Redcurrants or other berries, to serve
Strawberry puree
• 750g strawberries, hulled
• 2 Tbsp icing sugar
1. To make the strawberry puree, place the strawberries and sugar in a food processor and process until smooth. Set aside.
2. Place the eggs, extra yolks, vanilla and sugar in a heatproof bowl over a saucepan of simmering water and, using an electric mixer, beat for 6-8 minutes or until thick and pale. Remove from heat and beat for a further 6-8 minutes or until cool.
3. Whisk the cream until stiff peaks form. Gently fold cream through the egg mixture until well combined. Pour into a 2-litre capacity metal tin. Spoon over the strawberry puree and, using a spatula, gently fold it through the cream mixture for a swirled effect. Freeze for 6 hours or overnight.
Top with redcurrants or other summer berries to serve.
By Donna Hay
Copyright ©2013, APN Holdings NZ Limited