Sideswipe: Feb 20: Truck off!
5:30 AM Wednesday Feb 20, 2013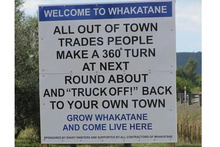 Anger took over from logic in this sign ... I think you mean 180 degrees? Photo/Supplied
Best way to punish your teen
"When my son was in his early teens he had his first cellphone. One day, when he was being particularly obnoxious, I took it away and locked it up, resulting in a tantrum which then got him grounded. I then secretly began sending SMS messages to it and calling it. He heard it and got almost hysterical at the thought of all the messages he was missing. I was firm, though, and didn't give it back until the following day. His rage at discovering who was calling him made it even better." (Source: B3ta.com)
Club has unusual method of deciding who to charge
A reader writes: 'I went with a friend for a night out to the Carpark club in the city last Saturday. We got our IDs checked and I went in first where a pretty girl greeted me on the door. As soon I walked in my friend followed me but surprisingly he was asked to pay a $10 entry fee. He paid and told me ... but no one asked me for an entry fee. There were other people who just walked in without paying anything. What gives?"
Is it a dog or a child?
Giving pets human names has developed over the years, with dogs being named to reflect their gender in the 60s-80s where Riko, Ginny, Samantha and Daniel started to pop up among names like Freckles, Snowy, Clover, Spaghetti, Champ and Rusty. Around 1985 a study showed people tended to name their dogs after food (Cookie, Candy, Peaches), disposition (Rascal, Bandit, Crab), colour (Blackie, Amber, Midnight), and owner occupation ("Lawyers like Shyster and Escrow; doctors prefer Bones"). By 2012, says a pet insurance outfit, the most popular dog names were Bella (blame Twilight), Max, Lucy, Molly, Buddy, Daisy, Maggie, Charlie and Sophie. (Source: Mental Floss)
One person's junk in another's treasure
This reader is a fan of the inorganic collection. "All my favourite things have come from the inorganic piles. Solid kauri dresser and hall table (circa 1800s), Murano art glass bowl and vase (no chips!), gilt frame mirror with original glass (sale stamp of 1919) and all sorts of wonderful treasures. South Auckland inorganic days are the best, and it would appear people don't realise what they are throwing out. I wish my local council would have them, I need a new coffee table."
Local Link: A pair motorised tub chairs pootling down the streets of Haumoana, Hawkes Bay.
New blog: You Had One Job is a site that shows pictures of all those mistakes made on the job.
Picture this: How people queue in Thailand...
Golf trick: One hole, nine putts...

Video: When Animals Attack (a compilation).
* Got a Sideswipe? Send your pictures, links and anecdotes to Ana at ana.samways@nzherald.co.nz
Copyright ©2015, NZME. Publishing Limited