Consumer confidence at highest in almost 3 years
5:30 AM Friday Feb 15, 2013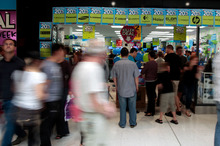 File photo / Richard Robinson
Consumer confidence has lifted to a 32-month high in the ANZ Roy Morgan survey as people take a more optimistic view of their own finances and of the economy.
ANZ economist Mark Smith said the bank's composite indicator, which draws on its consumer and business sentiment surveys to give a better guide to economic prospects than either survey alone, was flagging 2.6 per cent growth by mid-year.
"So far so good, but a sustained lift in confidence will ultimately depend on healthier labour market conditions," he said.
Consumer confidence usually declines in February as back-to-work reality sets in, but this time the headline index rose 2.7 points to 121.
A level above 100 represents more optimists than pessimists.
A net 2 per cent feel worse off financially than a year ago, but that's an improvement on the net 5 per cent last month, and a net 35 per cent are positive about their prospects over the year ahead, up from the net 29 per cent in the January survey.
Respondents' views on the economy, both one year and five years out, improved.
A net 32 per cent see it as a good time to buy a major household item, a robust level by the standards of the past five years though down from a net 38 per cent last month.
In Auckland, overall confidence dipped one point to 122, led by a 10-point fall in responses to the questions about current conditions, which are the ones best correlated with retail spending.
A similar disparity - overall confidence up, but sentiment about current conditions down - prevailed in Canterbury and the rest of the South Island.
Overall confidence rose eight points in Wellington, though it remains the least optimistic region, and rose five points in the rest of the North Island.
House price expectations lifted to their highest level in the history of the ANZ survey, Smith said, led by Canterbury and Auckland.
Copyright ©2015, NZME. Publishing Limited