Tennis: Fed Cup team start with win
7:36 AM Thursday Feb 7, 2013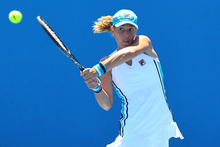 Marina Erakovic. Photo / Getty Images
The New Zealand Fed Cup team made a winning start to the Asia/Oceania Group II tournament in Astana, Kazakhstan, opening their account with a comfortable 3-0 victory over Vietnam yesterday.
New Zealand No 1 Marina Erakovic easily won her match 6-0 6-2 over Trang-Huynh Phuong Dai and teenager Emily Fanning made the perfect debut for her country with a 4-6 7-6(2) 6-0 defeat of Thi-Tam-Hao Tran.
Fanning faced two match points in the second set against before claiming the set in a tiebreaker and cruising to victory in the third.
In the doubles, two other debutants, Emma Hayman and Abigail Guthrie, won 4-6 6-4 6-3 over Tran and Trang-Huynh Dai.
New Zealand take on Hong Kong in their second match. If the Kiwis win their pool of five teams, they will then play in the final against the winners of the second pool, with the winner gaining a spot in Asia/Oceania Group I for 2014.
Results from the Asia/Oceania Group II Federation Cup tie between New Zealand and Vietnam in Astana, Kazakhstan, yesterday (NZT): Emily Fanning (NZL) bt Thi-Tam-Hao Tran (VN) 4-6 7-6(2) 6-0, Marina Erakovic (NZL) bt Trang-Huynh Phuong Dai (VN) 6-0 6-2, Abigail Guthrie/Emma Hayman (NZL) bt Thi-Tam-Hao Tran/Trang-Huynh Phuong Dai (VN) 4-6 6-4 6-3. New Zealand won the tie 3-0
- APNZ
Copyright ©2016, NZME. Publishing Limited