Missing Te Anau tramper found
6:28 AM Wednesday Feb 6, 2013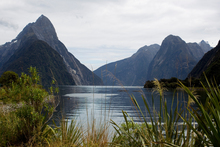 A missing tramper has been found in Te Anau.Photo / Dean Purcell.
A tramper who went missing north of Te Anau has walked out of the bush.
A search got underway last night after the tramper failed to return from walking the Lake Marian track.
Police say the tramper walked out just before midnight and isn't injured.
Copyright ©2015, NZME. Publishing Limited