Soccer: Ballboy transformed into overnight sensation
By Jonathan Brown of the Independent
12:58 PM Friday Jan 25, 2013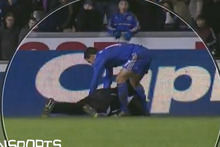 The inexpertly wielded boot of £170,000-a-week Chelsea star Eden Hazard yesterday transformed the son of a multi-millionaire property and travel tycoon into an overnight sensation. Photo / Youtube.
17-year-old son of multi-millionaire boasted on Twitter about plans to time waste hours before game
With just 10 minutes left on the clock during Wednesday night's Capital One Cup semi-final between Chelsea and Swansea, Charlie Morgan was just another rich young college boy.
In between revision sessions and driving his new white Audi A1, the football-obsessed 17-year-old seemed to spend his time bragging to mates on social media about travelling first class to exotic holiday locations, showing off his new iPhone 5 or styling himself as a high roller at the roulette table.
But the inexpertly wielded boot of £170,000-a-week Chelsea star Eden Hazard yesterday transformed the son of a multi-millionaire property and travel tycoon into an overnight sensation and embroiled the game in one of its most hotly contested dramas since Eric Cantona's spectacular 1995 Kung-Fu assault on a rival fan.
The number of people following Charlie Morgan on Twitter where he styles himself a "lad" and a "hustler" was last night nudging 90,000 after it emerged he had boasted in advance that that he planned to waste time during his final performance as a ball boy for the club where his parents own nearly a quarter of the shares. " The king of all ballboys is back making his final appearance #needed #for #timewasting," he posted hours before enraging the Chelsea attacker by lying on the ball as the west London team desperately sought a late goal to stay in the competition.
The 15,000 per cent rise in followers saw a series of celebrities weigh into the debate over Mr Morgan's apparent 20 second hold-up which led to the dismissal of the Belgian striker and helped his team through to their first major final.
Swansea-supporting Gavin and Stacey star Joanna Page wrote on Twitter: "Thank you to our 12th player by the way!"
While former Premier League enfant terrible Joey Barton opined that the Belgian striker's major crime was failing to kick "hard enough" although he later clarified his comment stating that he was "strictly against the kicking of balls people".
Former Chelsea winger Pat Nevin agreed. He told BBC Radio Five Live that the ball boys actions were "disgraceful". He said: "I would have kicked the ball out from underneath the ball boy if he had been lying like that, 100 per cent.
The teenager was only drafted in to work the match after the scheduled ball boy was unable to make it because of the snow. The swan song performance was distinguished by what proved to be the only telling strike of the match sending him rolling about the touchline in agony.
But his tardiness on the ball had previously been clocked by Sky Sports commentator Glenn Hoddle who remarked: "He's very slow, he rolls the ball deliberately slowly back to goalkeeper, he's bent, mark my words."
Swansea manager Michael Laudrup denied there had been orders to put the brakes on.
Following the incident it emerged that Mr Morgan - who appears to have suffered no lasting injury in the altercation - was no run of the mill ball attendant but the son of Martin Morgan, whose £42m fortune ranks him as one of the richest people in Wales.
Among his impressive property portfolio, which includes the family's £2m mansion on the Gower coast, is Morgans Hotel in Swansea harbour - favoured by Catherine Zeta Jones and Michael Douglas when they are in town and which was also the chosen billet of Chelsea FC on Wednesday.
South Wales police said they had received three complaints from members of the public and are following them up. Officers will speak to the complainants in Sussex, Kent and West Wales, before deciding whether to take any further action.
The Morgans, who were interviewed by police after the game, said they would not press charges against Hazard who is facing possible three match suspension and the admonishment of the Belgian FA (the KBVB).
The family was tonight seeking to swiftly extinguish the teenager's moment in the spotlight as they declined interviews and imposed a halt to further communications on Twitter. Swansea City meanwhile are facing the prospect of an unforeseen cup final against giant killers Bradford City.
By Jonathan Brown of the Independent
Copyright ©2016, NZME. Publishing Limited