Recipe: Coriander beef with noodles
By Donna Hay
5:00 AM Saturday Jan 26, 2013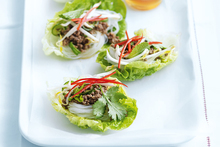 Coriander beef with noodles. Photo / William Meppem, Donna Hay Magazine
Serves 4
• ¼ cup lime juice
• 2 Tbsp palm sugar
• 2 Tbsp fish sauce
• 2 tsp vegetable oil
• 1 clove garlic, crushed
• ½ tsp ground coriander
• 400g beef mince
• 2 spring onions, chopped
• Coriander leaves, to serve
• Baby cos leaves
• 250g rice noodles, cooked
• Bean sprouts and thinly sliced chilli, to serve

1. Place the lime juice, palm sugar and fish sauce in a bowl and mix to combine. Heat the vegetable oil in a frying pan over high heat.
2. Add the garlic, ground coriander and beef and cook for 6-8 minutes. Add half the dressing with the spring onion and coriander leaves.
3. Fill the lettuce leaves with the noodles and beef and top with bean sprouts and chilli.
4. Serve with the remaining lime dressing.

Tips and tricks
• Versatile. Noodle salads are delicious served either hot or cold, so are perfect to take on picnics or to barbecues.
• It's a wrap. You could wrap the coriander beef in rice paper instead of lettuce to make rolls. Flavoursome. Add your favourite Asian flavours to the salads, such as sliced chillies, water chestnuts and sliced oyster mushrooms.
By Donna Hay
Copyright ©2013, APN Holdings NZ Limited