Soccer: Durante for All Whites captain?
5:54 PM Friday Jan 18, 2013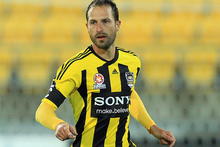 Andrew Durante's availability for the All Whites hasn't even been confirmed but he is already being mentioned by coach Ricki Herbert as a potential skipper. Photo / Getty Images.
Andrew Durante's availability for the All Whites hasn't even been confirmed but he is already being mentioned by coach Ricki Herbert as a potential skipper for the national side.
With Ryan Nelsen's international career in limbo following the announcement he will take up a coaching role at Toronto FC in the MLS in the near future, much speculation has begun as to who will succeed him as captain of the All Whites.
Ipswich Town defender Tommy Smith has done the job before when he became the youngest player to lead the All Whites at 22 when they played El Salvador last year, while West Ham United centre back Winston Reid captained the Hammers against Manchester United in FA Cup action during the week.
Then there's Durante, the Australian-born Wellington Phoenix skipper who becomes eligible to represent New Zealand in March, providing his citizenship is approved and he can tick all the relevant boxes with Fifa.
Durante, 30, has sat on the bench for the Socceroos in the past but never took the pitch for his native Australia and it would be a controversial call if the centre back came straight in to the All Whites and was then given the armband.
Herbert said during the week that if Nelsen's international career was over - which is still a big if - then he had three options at his disposal.
"Yeah, look, Tommy's had a go at it and I think that's important. I think Winston comes well in to the mix and like I say, who knows with Andrew," Herbert said.
"There's a bit of red tape to go yet but I think they'd be three very strong contenders to pick up and lead the side in a very good way. A very strong way."
Herbert said he had spoken to Nelsen since the 49-cap All White was unveiled as the new Toronto coach a week and a half ago but was none the wiser on whether he would again suit up for the New Zealand side.
"We have communicated and it's in Ryan's hands to work through it and when it's done either way then we'll both have something to say, but we have been in touch," Herbert said.
Durante has been a rock for the Phoenix during his stint with the club after he arrived from the Newcastle Jets in 2008.
He has made more than 100 appearances for the Wellington-based franchise and is a respected leader at the club where many of his team-mates also play for the All Whites.
New Zealand aspirations aside, Durante's immediate focus will be on trying to lift the struggling Phoenix out of their mid-season slump when they play Sydney FC at Allianz Stadium tomorrow night. (sat)
The Phoenix have dropped five of their past seven games and sit in dead last on the A-League ladder and everybody knows of their ongoing struggles when they play across the Tasman.
The squad has been boosted by the return of Paul Ifill who has recovered from ankle surgery and he will likely play from the bench tomorrow.
"It's in everybody's interest that we go across, get three points and play well," Herbert said.
Sydney have one of the most talented rosters in the league boasting the likes of Alessandro Del Piero, Brett Emerton, Jason Culina and the newly-acquired Joel Griffiths.
Despite their highly-paid squad the Sky Blues are languishing in ninth in the league and this weekend's game shapes as a vital outing for both clubs.
- APNZ
Copyright ©2016, NZME. Publishing Limited