Yachting: Race to be first back on the water
9:30 AM Friday Jan 18, 2013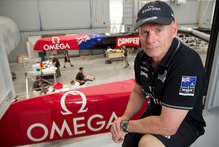 Team New Zealand managing director Grant Dalton wants to keep the latest changes to the second AC72 under wraps for as long as possible. Photo / Greg Bowker
The first of the off-water battles in 2013 has begun in the America's Cup, with Team New Zealand and Oracle in an unofficial race to get back on the water.
Emirates Team New Zealand are in the process of commissioning their second AC72 after taking delivery of the hulls from Cookson Boatyard this week, while Oracle are close to returning their first boat to the water after USA-17 suffered extensive damage when it capsized in San Francisco Bay in October.
Oracle will be eager to get their testing programme back under way before the Kiwis launch boat two.
Team New Zealand managing director Grant Dalton admitted the thought of trying to upstage the cup defenders by launching their new boat - NZL5 - first had crossed his mind. The rules prevent the syndicates from launching a second boat before February 1, and Team New Zealand are hopeful of getting their boat in the water soon after that date - about the same time Oracle are scheduled to be back in action in their patched-up catamaran.
"From a PR point of view I think [Oracle] will be quite conscious of getting their boat one sailing again before we put this one in," said Dalton, gesturing towards the giant frame of their AC72, which is being housed in specially constructed tents at their Halsey St base.
Regardless of which team takes to the water first, given the difficulties and setbacks their rivals have experienced, Team New Zealand will take a great deal of satisfaction from having kept their testing programme to schedule.
With Oracle and Swedish team Artemis not expected to launch their second boats until March or April, the Kiwi team are keen to keep their new toy under wraps for as long as possible.
Media visiting the base yesterday were given a full look at the new hulls of AC72 as up to 25 crew and boat building staff worked to piece the boat together. But photographers were restricted on what angles they were allowed to take shots from, with Team New Zealand conscious their rivals will be closely analysing any pictures or footage.
"In the end, both Oracle and Artemis have settled on their second boat, they will both be well in build, I would expect," said Dalton. "But we know when Oracle first launched their boat, we looked at a few things and thought 'wow that's smart' and incorporated those kind of concepts into this boat, so I don't want to give them any more lead time than we have to."
Team New Zealand technical director Nick Holroyd said most of the changes to the boat are operational or "under the skin".
Holroyd's desk in the design office is next to skipper Dean Barker to ensure there is a constant dialogue between the sail and design teams.
"One thing that became incredibly apparent very quickly sailing the other boat is being able to handle the boat easily when you're pushing it really hard, at times this can mean a couple of knots difference in boatspeed. So a lot of the design objectives were to simplify that a wee bit," said Holroyd.
Given the tight timeframe the teams have been working under and the size of the project, the design for NZL5 was handed over to the boat builder only five days into Team New Zealand's testing programme for boat one.
But Holroyd said they were still able to incorporate all their learnings from their 30-day sail period into the design of the second boat.
By day five the team had already confirmed the ability to make boats of that scale foil, which allowed designers to change direction with the shape of the hulls in boat two.
"Obviously the hulls are getting used a lot more upwind now than it is downwind, because of the foiling, so we've just been able to bias the performance characteristics of the hull a little bit, which leads to net gains around the course."
Holroyd said as they got further into the testing process with boat one, they were able to go back to the boat builders with a couple of revisions to the design. "They've been incredibly accommodating of us changing along the way," he said.
After launching boat one to much fanfare in July last year, Team New Zealand will hold a more modest launch this time around, with much of the team's energies focused on doing the business in San Francisco.
Dalton said now the calendar has flicked over to 2013, there is a noticeable step up in intensity around the base.
"Suddenly all our conversations in the meetings are now talking about this year, not next year, so everything is really starting to happen," he said.

New delivery
• NZL5 is Team New Zealand's second AC72, which will take the startline in San Francisco this year in the Louis Vuitton Challenger Series.
• More than 40,000 man hours went into the building of the giant wing-sailed catamaran.
• The job now is to piece it together then fit it out with all of the complex systems and get it out on the water in the next few weeks to be load tested, tuned and resume the sailing programme to get it up to speed in final preparations before shipping it to San Francisco.
Copyright ©2016, NZME. Publishing Limited