Interiors: Family affair
By Leanne Moore
11:00 AM Sunday Jan 13, 2013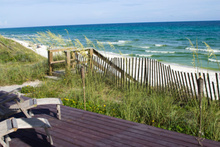 No place like a holiday home. Photo / Thinkstock
Waihi Beach has been the best place in the country to holiday for Trudi Gatland, ever since she was a little girl.
It's a sentiment shared by other family members, with her parents living next door to her waterfront bach and her uncle across the road. And there are more uncles and aunties all living within 50m of each other on the road, so if there are family gatherings to be had, they are always at Waihi Beach.
"Sometimes in summer there can be 20 of us having dinner together, especially if someone's caught fish," says Gatland. "We get to spend quality time together. The bach really is our hub."
Her husband, Warren Gatland also enjoys the Bay of Plenty beach, even though in his younger days he used to holiday on the opposite coast, at Raglan.
Their holiday home hasn't always been as big and stylish as it is today. the Gatlands and their two children, daughter Gabby, now 19, and son Bryn, 17, holidayed in the original humble bach for seven years before reconfiguring the ground level, pushing upwards and renovating.
"It was a cute little three-bedroom bach that had been well built, so we were able to keep its bones when we did it up in 2008," says Gatland. "Living in it for seven years gave us a good sense of how it would look and work when we changed it."
They kept the downstairs footprint but the old cladding was removed and replaced with black-stained weather-board and board and batten. The framework was strengthened so they could add an upper level, which now houses the bach's three bedrooms.
The spaces downstairs that were previously used for sleeping have been opened up to form the main living area, the stairwell and a bathroom. The garage has been converted into a separate laundry and a guest room.
The kitchen has remained in the same place, meaning Warren, who loves cooking, can take in the view through the bifold windows to the waves pounding the beach just 30m away. The same sea views are enjoyed from the main bedroom and Gabby's room.
The bach can now sleep 16 people, plus there's room to sleep another two on the window seats in the lounge.
Gatland says she can vouch for those window seats. "It's a lovely, sunny spot in the corner. The kids joke about me having my 4pm nana nap there, with the sun on my feet."

Style tips
Colour co-ordinated - The blues and whites used in the bedrooms echo the colours of the sea views out the windows.
Squared away - Cube shelving flanks the fireplace in the lounge and is handy for storing summer reading and displaying memorabilia.
Hot stuff - One of Gatland's favourite upgrades in the bach is the boiling water tap that has been installed on the kitchen bench.
By Leanne Moore
Copyright ©2015, NZME. Publishing Limited