Racing: Long-range dream for Cairns trainer
5:29 AM Thursday Jan 3, 2013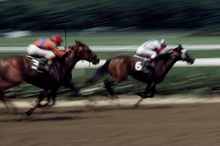 Photo / Thinkstock
The dream of having a Magic Millions runner will be realised for Cairns trainer Trevor Rowe if He's A Ladies Man wins at Eagle Farm on Saturday.
Bought for only $5000, He's A Ladies Man has won his only two starts at Townsville and Cairns, earning $32,000 and is precariously placed in 23rd spot on the Magic Millions order of entry.
If the gelding wins or finishes second in the Two-Year-Old Handicap (1000m) on Saturday, his place in the Millions will be secure which Rowe believes is achievable.
"It would be silly to think he's a lay-down misere but I'll be disappointed if he didn't finish in the first three," Rowe said. "You know what racing's like - you're on top of the world today and on the bottom of the pile tomorrow but at the moment he's ticked all the boxes."
He's A Ladies Man arrived at his Toowoomba base on December 22 and impressed Rowe with his effort to finish second in a recent Toowoomba barrier trial.
"In the trial he did everything he was required to do and I galloped him this morning and couldn't be more pleased with him," he said.
"His best attribute is his gate speed and it'll take a fast one to head him off but if something wants to take him on he'll be able to take a trail no trouble at all."
Rowe has engaged stable apprentice Braydn Swaffer to ride He's A Ladies Man. "Braydn has a very good work ethic and he's ridden He's A Ladies Man from the day he was broken in."
"When you live 1800km away the last thing on your mind is having a runner in the Magic Millions but here we are with a real chance to run in it."
- AAP
Copyright ©2017, NZME. Publishing Limited