Vampires eclipse the hobbits
5:30 AM Thursday Dec 20, 2012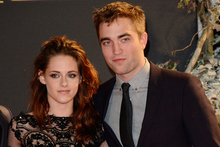 Kristen Stewart and Robert Pattinson. Photo / AP
For all the hype, controversy and links to 100 per cent Pure New Zealand, Sir Peter Jackson's Hobbit film rated only third on Kiwi movie-goers' excitement meters, beaten by vampires and superheroes.
The Hobbit: An Unexpected Journey had the third-biggest opening this year in New Zealand, behind Twilight Saga: Breaking Dawn Part 2, which took the top spot, making $2.24 million during its first four days, and The Avengers, which made $2.38 million this year.
The first of Sir Peter Jackson's The Hobbit trilogy has taken the year's third place, making $2.036 million last weekend, according to figures from the Motion Picture Distributors Association.
The Hobbit was also beaten by The Lord of the Rings: Return of the King, which brought in $2.69 million the first weekend it was released in 2003 and retained the third-place title for the overall best opening weekend. The overall top opening weekend went to Harry Potter and the Deathly Hallows: Part 2, while The Hobbit was seventh.
Kiwis also appeared to be less enthusiastic about the movie than overseas film buffs, as The Hobbit set a December record in North America, pulling in US$84.77 million ($101 million), and US$223 million ($265.7 million) worldwide for the opening weekend.
But Motion Picture Distributors Association chairman Peter Garner, who is also the managing director of Paramount Pictures NZ, said The Hobbit had performed very well and would be hard to criticise. He expected it would bring in between $3.5 and $4 million since opening last Wednesday.
Mr Garner said that while teenagers remained the core audience, the 50-plus age group was also a growing market which could be seen in the figures for The Best Exotic Marigold Hotel and The King's Speech.
This year's box office takings are expected to increase by up to 8 per cent on last year, to $174.96 million. While last year's cinema attendance was hit by the Christchurch earthquake disaster and the Rugby World Cup, the results were also far behind the $176.5 million record set in 2010 with the help of Boy and Avatar.
Next year was also looking promising for the New Zealand industry with a varied line-up including Life of Pi, Rise of the Guardians, Gangster Squad, Jack Reacher and Les Miserables, also expected to draw cinema-goers in Mr Garner said.
Event Cinemas general manager Carmen Switzer said the success of The Avengers had taken the company by surprise, but she expected The Hobbit to be playing at cinemas through January.
"The Hobbit didn't get off to the midnight start that Twilight did but it's gathering momentum very quickly ... It will end up with a very strong result."
A spokeswoman for Roadshow Film Distributors, which distributes The Hobbit, declined to respond to the Herald's questions and said she would give a statement with updated figures, which did not arrive before publication.
Copyright ©2016, NZME. Publishing Limited