Hockey: Black Sticks women wallop India
6:47 PM Saturday Dec 8, 2012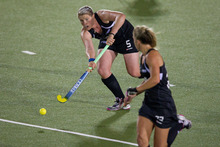 Katie Glynn scored a hat-trick. Photo / File
The New Zealand women's hockey team started their six-test series against India in style, with a 7-2 victory in Napier this afternoon.
A hat-trick from Olympian Katie Glynn and two goals from debutant Olivia Merry helped seal a comfortable victory for the Black Sticks.
"It's definitely good to start the series with a nice comfortable win," coach Mark Hager said. "There were some really well-taken goals, but it is a new group of players so parts of the game were a bit scratchy."
There were seven debutants that got a run today in the new-look Black Sticks side - with Sian Fremaux, Pippa Hayward, Rose Keddell, Olivia Merry, Cassandra Reid, Aniwaka Roberts and Jenny Storey taking to the turf.
India scored first, but by halftime the Black Sticks were up 3-1 with goals from Julia King, Merry and Glynn.
The Kiwis, captained today by Stacey Michelsen, then fired on all cylinders at the start of the second half. Two goals from Glynn helped them gain a further lead and, although India pegged one back, Anita Punt and Merry rounded out the scoring.
The Black Sticks play their next game against India tomorrow in Napier, before travelling to Palmerston North to play twice next week. The final two games will be in Wellington at the National Hockey Stadium in Newtown.
- APNZ
Copyright ©2016, NZME. Publishing Limited