Boxing: Free to fight but bitter about SBW
10:55 PM Wednesday Dec 5, 2012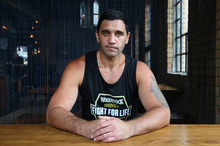 Richard Tutaki is to fight Joseph Parker on the December 15 Fight for Life card. Photo / Chris Gorman
Richard Tutaki's face has changed since he first, briefly, appeared on the national sporting stage.
That was in January, when the 34-year-old journeyman fighter was announced as the opponent to face Sonny Bill Williams for a vacant New Zealand heavyweight title, only to be dumped by Williams' promoter Khoder Nasser when the Herald revealed Tutaki was in jail.
The Tutaki who pitched up yesterday to promote his bout with highly rated prospect Joseph Parker on the December 15 Fight for Life card appeared leaner and fitter.
The puffy cheeks had receded. His eyes were a bit wild, but clear enough.
He wasn't overly thrilled to be dealing with journalists whom he blamed for the "shattering" experience of losing his tilt at SBW, but he was less bothered by the suggestion he had been set up to play the bad guy to devout Mormon Parker's clean-cut hero by the event's promoters.
"You can see it how you want," Tutaki said. "It's just another fight. Good kid, bad kid? I see myself as a good kid anyway. The media slandered us. They classed me as a bad kid but, if you know me as I know me, I am not a bad person."
That may be so, however Tutaki is a graduate of the school of hard knocks. His manager, John Glozier, was recently kneecapped in a home invasion shooting in Three Kings.
Glozier, who also goes by the name David John Blaikie, did not attend yesterday's press conference as he was in police custody awaiting a bail hearing set down for tomorrow on a charge of possession of methamphetamine for supply.
Glozier is also to appear in the Auckland District Court on February 12 to defend charges of unlawfully possessing a pistol, receiving stolen property and possession of methamphetamine.
Tutaki also has ongoing legal problems. He was sentenced in February on four driving-related charges, and is to appear in the Manukau District Court today to defend two charges of breaching community work and one of escaping from police custody.
He is also to appear again on January 29 on an unrelated charge of possessing methamphetamine.
An error by court officials had led to him being arrested ahead of the SBW fight, Tutaki said. He intended to defend the charges and was not expecting any more legal trouble ahead of this fight.
"It was just you guys [the media] who caused the problems anyway," he said. "They gave me the wrong date and you guys hammered me for it."
Promoter Dean Lonergan said he was not expecting Tutaki's legal problems to affect the fight.
"If it comes up we'll deal with it but right now we are set on Richard Tutaki versus Joseph Parker on December 15," he said.
Co-promoter David Higgins rejected suggestions he and Lonergan were trying to cash in on Tutaki's notoriety.
"We've made a six-year commitment to Joseph so we'd be dumb to take risks for a publicity stunt," Higgins said. "First and foremost it is about who is the right next step for Joseph from a boxing perspective. We sounded out three matchmakers and they were unanimous that Richard Tutaki would be a good next step up."
- APNZ
Copyright ©2016, NZME. Publishing Limited