Who's supporting Shearer?
11:50 AM Monday Nov 19, 2012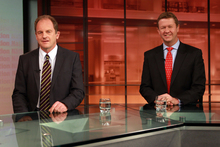 Labour Party leader David Shearer (left) and David Cunliffe preparing to go on TV3's The Nation TV show last year. Photo / Doug Sherring
How it stacks up: Will you support David Shearer in an endorsement vote?
Yes
Trevor Mallard, Grant Robertson, David Parker, Andrew Little, Clare Curran, Darien Fenton, Chris Hipkins, Kris Faafoi, Ross Robertson, Clayton Cosgrove, Iain Lees-Galloway, Megan Woods, Jacinda Ardern, Phil Goff, Annette King, Maryan Street, Damien O'Connor, Phil Twyford.
Refused to say
Charles Chauvel, Moana Mackey, Nanaia Mahuta, Parekura Horomia, Lianne Dalziel, Louisa Wall, Sue Moroney, Ruth Dyson.
Unknown, could not be contacted
Su'a William Sio, Rajen Prasad, Shane Jones, Rino Tirakatene, Raymond Huo, David Clark.
Copyright ©2016, NZME. Publishing Limited