Recipe: Peach and raspberry scones
By Donna Hay
5:30 AM Monday Nov 5, 2012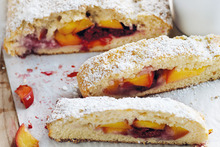 Peach and raspberry scones. Photo / Chris Court
Serves 8
2 peaches, stones removed and sliced
125g raspberries
1/4 cup caster sugar
2 cups self-raising flour
2 Tbsp caster sugar, extra
2/3 cup buttermilk
2/3 cup pouring cream
1 tsp vanilla extract
Milk, for brushing
Demerara sugar (see tips + tricks), for sprinkling
Icing sugar and pouring cream, to serve
1 Preheat oven to 200C.
2 Place the peaches, raspberries and caster sugar in a bowl and mix to combine. Set aside.
3 Place the flour and extra sugar in a bowl and mix to combine. Make a well in the centre and pour in the buttermilk, cream and vanilla. Use a butter knife to mix the buttermilk and cream into the flour until just combined.
4 Turn out on to a lightly floured surface and gently bring the dough together. Roll out to a 30cm square.
5 Place the dough on a baking tray lined with baking paper.
6 Place the fruit mixture on to half the square and fold to enclose.
7 Brush with milk, sprinkle with demerara sugar and bake for 20-25 minutes or until golden and cooked through. Dust with icing sugar and serve with cream.
Tips and tricks
A light touch makes the best scones. Don't overwork the dough or you'll end up with a hard scone. That's why it's best to use a butter knife for the dough.
Demerara sugar is a brown sugar with coarse granules. Find it in the baking aisle of the supermarket.
Use your favourite seasonal fruit in these recipes, such as apricots or plums.
You can freeze scones in an airtight container for up to 2-3 months. Simply pop in the oven to warm before serving.
* For more recipes by Donna Hay click here.
By Donna Hay
Copyright ©2016, NZME. Publishing Limited