Kiwis want flexible work options
5:30 AM Monday Nov 5, 2012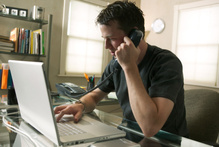 Photo / Thinkstock
Ninety per cent of New Zealanders say flexible employment options such as working from home are an important factor when looking for a new job.
But only 13 per cent of employers say they will provide greater workplace flexibility through remote working in an effort to improve productivity over the next five years, a report shows.
Experts say evolving technologies are seeing more people working from home and employers needed to open their minds if they want to attract and retain skilled workers.
The Randstad World of Work survey stems from research from 9820 employees and employers across the Asia Pacific region. In New Zealand, 1620 were surveyed, including 970 employees and 650 employers, ranging from chief executives to middle management and human resource professionals.
Asked if flexible work options were an important attribute for potential employers to have, 42.54 per cent of employees said it was very important and 47.76 said it was important.
Of the 187 respondents who were already offered flexible working conditions, 54.55 per cent said it had made them more satisfied, 41.18 per cent said it didn't make a difference and 4.28 per cent said it made them less satisfied.
When asked how it would address talent scarcity over the next decade, 18.58 per cent of employers said they will recruit more people who wanted to work remotely.
Almost 29 per cent said the biggest barrier for home-based workers was technology limitations.
Heather Douglas, owner of Bizbuz, which provides support to home-based businesses, said she had seen more older men leaving their jobs to work from home.
"After a certain age it becomes difficult for them if they are made redundant.
"Men leave the workforce and start up on their own when they are unable to get back into the workforce, whereas perhaps for women it may be a secondary income and it's less of an issue for them.
"Also, they've paid off the mortgage, the kids are out of the house and they're sick and tired of working for somebody else."
A survey by the company showed people were highly satisfied working from home, but they were earning less, Ms Douglas said.

Home versus the office
Employees
•90.3 per cent said flexible work options are very important or important.
•54.55 per cent of those who worked from home said it has made them more satisfied.
•67.89 per cent said the option of working from home was either appealing or very appealing.
Employers
•13.67 per cent will provide greater workplace flexibility to improve productivity over the next 5 years.
•18.58 per cent will recruit more people to work remotely in an effort to address talent scarcity over the next decade.
•28.7 per cent said the single biggest barrier to offering flexible working conditions was technology limitations.
Source: Randstad World of Work Report 2012-13
Copyright ©2015, NZME. Publishing Limited