Soccer: Ifill now has some help
5:39 PM Sunday Nov 4, 2012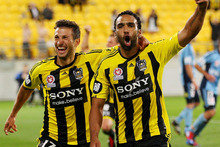 Paul Ifill and Vince Lia. Photo / Getty Images.
Since Paul Ifill arrived at the Wellington Phoenix in 2009 he has been their go-to guy.
If the team were ever in need of a spark on attack it was often Ifill who delivered.
Whether it was dancing past a defender to score or converting a clutch penalty in the playoffs against Sydney last summer, the 33-year-old was the man for the job.
But things are different at the Phoenix this season following the arrival of Belgian Stein Huysegems, rookie Louis Fenton and All White Jeremy Brockie - now manager Ricki Herbert has a host of options at his disposal.
The attacking four of Brockie and Huysegems up front, with Ifill on the left wing and Fenton operating down the right flank, has a sharp look to it while Solomon Islands international Benjamin Totori provides energy from the bench.
There's no longer the need for the cry of "pass the ball to Paul" when the Phoenix are after something special.
That has been evident as Huysegems has scored three times in the first four games this season and Fenton's diving header on opening night was impressive.
The acquisition of Huysegems and Brockie has been good for the Phoenix who have been able to deploy Ifill on the wing this season where he has more space and time with the ball to create where in the past he had been forced to play as a striker, which isn't his best spot.
Given the Phoenix's savvy recruitment drive during the off-season, Ifill said it was nice to have a bit of pressure lifted off his shoulders.
"But it's time for me to step up as well I think," he said.
"Stein's been excellent coming and I think myself, Brockie and Louie need to share the brunt of goals around a little bit. Keep making chances for Stein, obviously, because he's going to carry on putting the ball in the back of back of the net. But I think we need to step up and take the workload off him a bit."
Ifill's next chance to offer something to the Phoenix will come tomorrow night when the Wellingtonians meet the Melbourne Victory at Etihad Stadium in a rare Monday night clash.
The Phoenix have opened the season with a win, two draws and a loss, which came in controversial circumstances last weekend at the hands of Adelaide United.
The game was marred by poor officiating and a diving incident involving Adelaide midfielder Jeronimo Neumann and Phoenix defender Ben Sigmund, while Herbert and Phoenix skipper Andrew Durante could both be fined for comments they made in the aftermath.
Ben Sigmund will miss the meeting with the Victory after receiving a red card when he was adjudged to have fouled Neumann.
Michael Boxall will step in to fill Sigmund's boots and Ifill said he expected a hard night against the Victory, who have won only one of their first four games.
"It'll be tough," Ifill said. "They've been up and down but they normally produce their best against us so I doubt they will have too many worries about us coming over. But we've got to go over there with a positive mindset and try and get the points."
The Victory have struggled to gel under new coach Ange Postecoglou but they do boast All White Marco Rojas and the dangerous Archie Thompson on attack, while Argentine Marco Flores is due to fire.
In 15 meetings between the clubs, the Phoenix have beaten Melbourne only twice.
- APNZ
Copyright ©2015, NZME. Publishing Limited