All Blacks: Kerr-Barlow like a kid in a candy store
4:12 PM Thursday Nov 1, 2012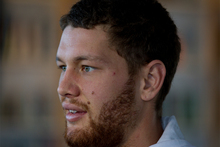 New All Black squad member Tawera Kerr-Barlow. Photo / Getty Images.
New All Blacks squad member Tawera Kerr-Barlow didn't get much sleep last night.
The 22-year old Waikato halfback was kept awake by the thought of joining up with his All Blacks team-mates for the first time, and as he prepared to depart with his idols on their end of year tour to Europe today he had the glint in his eye of a young man living out his dream.
"I was like a kid in a candy store getting kitted out in all my All Blacks gear, and I'm probably still containing myself, but inside I'm jumping around," Kerr-Barlow said.
"Last night I think I was more nervous than before I play a football match, but today was probably one of the coolest days of my life."
Named as one of three halfbacks in the All Blacks' 32-man squad to tour Europe for a month, Kerr-Barlow could overtake Piri Weepu as the second best halfback by the end of the tour, if he takes his chances overseas like he did for the Chiefs in the Super 15.
The former Hamilton Boys High School student hopes to force his way past test incumbents Aaron Smith and Weepu to get a start in at least one of the four scheduled tests against Scotland, Italy, Wales and England.
"I'm just going to soak up everything here, learn all the moves and do the business on the paddock. I have to try to remain calm and not let the occasion overwhelm me, but words can't express how excited I am at the moment."
"For me, just to put on the jersey and go out there and hear the anthem and do the haka will be amazing. But I'm looking forward to soaking up the atmosphere over there too."
Kerr Barlow said he had been caught off guard by the introduction of the International Rugby Board law amendment which has removed the call 'pause' from the setting of a scrum, in order to minimise resets because of collapsed scrums.
"Yea that got me at training actually. The first time I was off balance when they engaged but after a while you just get used to it and it will probably be the biggest challenge for the props and second rowers."
Kerr-Barlow admitted not knowing much about the European opposition the All Blacks will come up against but is determined to make the most of the opportunities handed to him, on and off the field.
"I used to watch a lot of old tapes I had of the '99 World Cup which was played over there and I'm really looking forward to soaking up what looks like a great atmosphere.
"I'm an avid reader and quite a few books I have read are about Rome so I'm quite excited to go and seeing the Coliseum and a bit of history too."
It seems that every aspect of Kerr-Barlow's new world is greeted with open arms and a wide smile and his day was made complete by the standard of hospitality provided on his first day of camp.
"I have to watch myself with the food, I have come in for a couple of the camps and the food has been brilliant. I just had a meeting with the nutritionist and he laid down the law. But I am looking forward to the first lunch of the tour today."
Copyright ©2016, NZME. Publishing Limited