Basketball: Defence driving offence for Breakers
5:00 PM Saturday Oct 27, 2012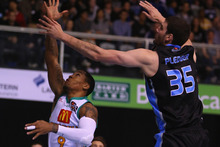 Alex Pledger (right) leads the league by a wide margin with 14 blocks from four games. Photo / Getty Images.
The high-powered offence which propelled the Breakers to consecutive ANBL titles has yet to reappear, but their quest for a third crown has suffered little in its absence.
The Breakers are sitting pretty near the top of the ladder after the first month of the season, with last night's 11-point win in Melbourne the latest example of the defending champions grinding out results while below their best.
With a 3-1 record, they are in the same position they were after four rounds in their last campaign - but that's where the similarities end.
In their first three victories last season the Breakers were blowing teams out, averaging 99 points and conceding 77. This time around, with their offence out of touch and averaging 74 points in their three wins, the North Shore club have tightened the screws on defence to give up only 65 points per game.
Where in the past the Breakers were scoring for fun and cruising to big wins, these Breakers have relied on their defence to keep them in games when their shooting has been wayward.
"That's been our thing so far this year," centre Alex Pledger said. "The last couple of years we've been known as a team that can score pretty much at will and be a little in and out defensively.
"But this year we've been pretty good defensively most of the time and a little erratic offensively."
There are personnel factors behind the shift in approach. Gary Wilkinson was consistently among the Breakers best at the offensive end of the court, averaging more than 16 points per game in his time with the club, whereas Pledger prides himself on his ability under his own hoop.
And with good reason. The 25-year-old leads the league by a wide margin with 14 blocks from four games, while he has recovered from the ignominy of being held without a rebound in the Breakers' opening loss against Perth to sit 10th in total boards.
"That's an area where I can have the biggest impact on the game," Pledger said. "I might not be able to score and stretch the floor the way Gary could, but I like to think that I bring a little more as a defensive presence."
Another element in the reduced offensive output has been an inhibited Tom Abercrombie. Usually free-scoring, the swingman was still feeling the effects of last season's ankle injury in the first few games, averaging just 10 points, but he has begun to show signs of returning to his best.
He led the Breakers with 20 points last night and Pledger said his Tall Blacks teammate was looking far more comfortable.
With Abercrombie improving every game and the offence yet to hit top speed, Pledger sounded an ominous warning for the rest of the league.
"We definitely haven't played anywhere near our best ... but we're still findings ways to get wins," he said. "As soon as we get that shooting touch and get that flow offensively, we'll be pretty good."
- APNZ
Copyright ©2016, NZME. Publishing Limited