Recipe: Wicked cookie sandwiches
By Donna Hay
5:30 AM Saturday Oct 27, 2012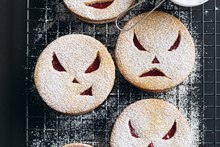 Wicked cookie sandwiches. Photo / Supplied
Makes 8.
250g unsalted butter, softened
3/4 cups caster sugar
2 tsp vanilla extract
1 egg yolk
2 1/4 cups plain flour, sifted
2/3 cup raspberry jam
Icing sugar, for dusting
Preheat oven to 180C. Place the butter and sugar in an electric mixer and beat until pale and creamy. Add the vanilla and egg yolk and beat well to combine. Add the flour and beat until a smooth dough forms. Wrap the dough in plastic wrap and place in the fridge for 15 minutes or until firm. Divide the dough in half and roll out each half between 2 sheets of non-stick baking paper to 5mm thick. Use an 8 1/2 cm cookie cutter to cut 16 rounds from the dough. Place the cookies on baking trays lined with non-stick baking paper. Use a small, sharp knife to cut out faces on half the cookies. Bake for 10-12 minutes or until light golden. Cool on wire racks. Spread the whole cookies with raspberry jam and sandwich with the faces. Dust with icing sugar to serve.
Tips and tricks
Sandwich the scary cookies with your favourite jams, such as apricot or
blueberry. Or try chocolate-hazelnut spread or caramel filling for a sweeter scare.
* For more recipes by Donna Hay, click here.
By Donna Hay
Copyright ©2013, APN Holdings NZ Limited